Eskymos Shivver, Roll Past Norway Again, 17-0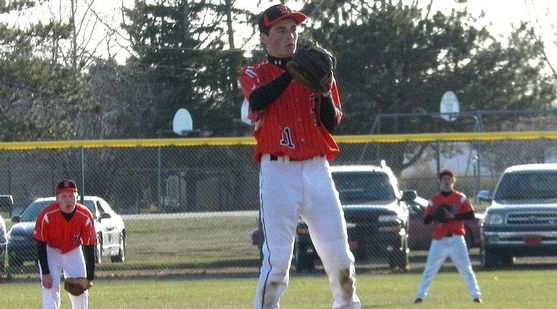 ESCANABA---The Escanaba High School baseball team turned up the heat Tuesday as they faced the Norway Knights on a cold evening at Al Ness Field.

The Eskymos scored eleven runs in the first inning and rolled to a 17-0 win over the Knights in a game shortened to four and a half innings by the mercy rule.

It was Escanaba's second lopsided win over the Knights in the past seven days. The Eskymos won in Norway, 13-0, last Wednesday.


Alex DeHaan looks on as he leads off of first base.

Nick Vandermissen led the way with a single, double and triple, driving in five runs along the way. But he was not allowed to try for a home run to get the "cycle", as Manager Kirk Schwalbach decided to bring younger players into the game due to the lopsided score.

Norway committed four errors in the first inning, and there were three walks and two hit batsmen as part of the 11-run outburst. Escanaba sent 16 batters to the plate that inning.

Andrew Sedlar, Jeffry Lyle, and Jake Rodman combined to throw the one-hit shutout on the mound. Sedlar pitched the first two innings, Lyle the middle two, and Rodman threw in the fifth inning. Lyle was awarded the win because Sedlar did not pitch a minimum of three innings in a five-inning game. Rodman also got his first hit as an Eskymo.

The game was played under sunny skies, but the temperature was just 37 degrees at first pitch. The windchill factor at the time was 28 degrees.

Escanaba (5-2) will host the Kingsford Legion Blues Thursday night at 6:00. The game will be broadcast live on WCHT-AM (600), and on-line at rrnsports.com.

Pictured at top: Jeffry Lyle on the mound Tuesday. Click the thumbnails in the box at the top of the page for more photos from the game.