9-0: Rockets Sweep Cougars To Stay Undefeated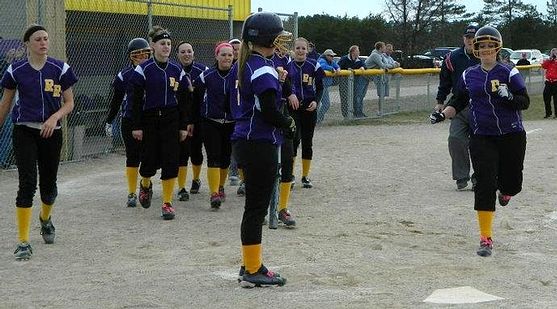 RAPID RIVER---The Rapid River Rockets continue to look like a softball team destined to make a return trip to Battle Creek's Bailey Park this summer. The Rockets won two more games on Wednesday, sweeping the Superior Central Cougars, 8-1 and 11-1, to stay unbeaten on the young season. The sweep improved Rapid River's record to 9-0.


Rockets' Kendyl Miller makes a catch.

In the opener, Neena Brockway pitched all seven innings to earn the win, striking out five and walking none. She helped her own cause by driving in three runs with a double and a triple.

Also at the plate, Shannon Wolf drove in three runs with two hits, and Ashleigh Monticello had a single and double and scored two runs.

In the nightcap, Heather Sanderson earned the win in the circle, pitching five innings and walking no batters. Monticello was hot at the plate again, getting a single, double, and home run. She drove in four runs in the victory. Sam Peterson hit an over-the-fence home run (the first of her career), and Averi Kanyuh drove in two runs.

Rapid River, a Division Four state semifinalist last year, will travel downstate to Boyne City for a tournament this Saturday.

Pictures in the "Article Highlights" box at the upper right of this page are courtesy of Cara Brockway. Thanks, Cara!