We changed the structure of our website and all stories and content from July 2006 through February 2012 can be viewed at
archive.rrnsports.com
.
All stories, news and content starting from March 2012 can be viewed here. Just use the drop down boxes above to find your favorite sport.
Rockets Finish 9-0 Season With Homecoming Win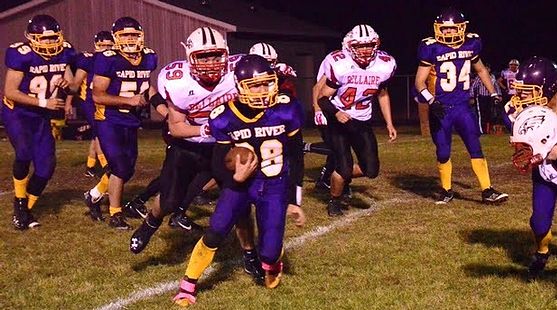 The Rapid River High School football team closed out a perfect regular season Friday night with a 42-28 win over the Bellaire Eagles in Rapid River.
The win on Homecoming gave the Rockets the Bridge Alliance Conference Championship, and set the team up to host state playoff games, starting next weekend. Click the above headline to see photos taken by Michelle Rubick. Pictured: Austin Wicklund scores.
Calumet Reaches Playoffs As Braves Drop Shootout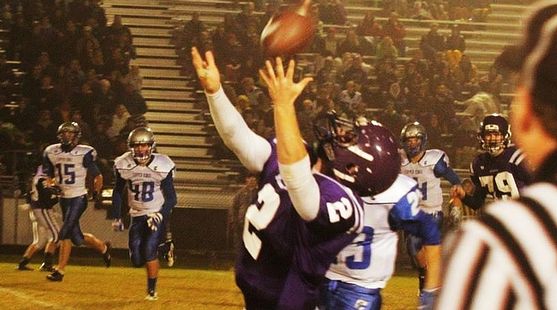 The Gladstone High School football team scored two touchdowns in the final ten seconds of Friday night's game against the Calumet Copper Kings. Too bad it wasn't enough as the Braves lost to the Kings, 47-38, in a wild game at the Marble Athletic Field.
Calumet (6-3) qualified for the state playoffs while the Braves lost their sixth straight game after a 3-0 start. Click the above headline to read the details, see photos taken by Ron Jurek, see videos taken by Dean Herioux, and listen to audio highlights and interviews.
SPORTS BROADCASTS ON RRN STATIONS
Sunday October 26, 2014
12:30 PM -
NASCAR Racing. Sprint Cup 500-mile race from Martinsville Speedway in Virginia. On WCMM-FM (102.5).

6:00 PM -
NFL Football. Green Bay Packers at New Orleans Saints. From the Superdome in New Orleans, Louisiana. Kick-off is 8:30 E.T. Coverage begins at 6:00. On WGLQ-FM (97.1).
Monday October 27, 2014
7:00 PM -
NASCAR Racing. "Fast Talk" from the Performance Racing Network. On WCHT-AM (600).
Tuesday October 28, 2014

7:00 PM -
NASCAR Racing. "NASCAR Live" from the Motor Racing Network. On WCMM-FM (102.5).
Wednesday October 29, 2014
7:10 PM -
NHL Hockey. Detroit Red Wings at Washington Capitals. From the Verizon Center in Washington, DC. On WGLQ-FM (97.1).