Eskymo Tennis Team Battles Wind; Sweep Maroons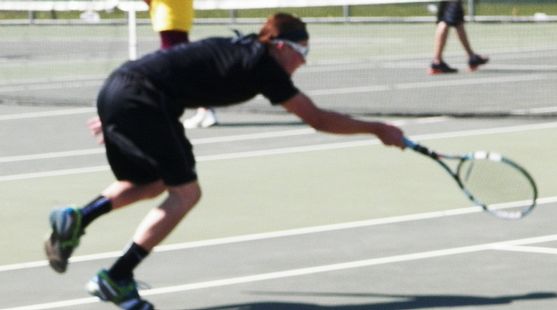 ESCANABA---The Escanaba High School tennis team picked up its first win of the 2012 season on Thursday, turning back the Menominee Maroons, 8-0.

The win came under sunny conditions, but there was a cold, gusty wind that made it very difficult to return the ball...or to serve...effectively.


David Fix jumps up to get a return.
"We played some good tennis today in less than ideal conditions. I'm really proud of all our guys for the way that they improved," Eskymo Coach Jim Hansen said. "We made fewer mistakes today and we we're able to overcome some adversity and tough play."
The Eskymos won six of the eight flights in straight sets.
"Tyler Myrick continues to impress me with his ability to persevere in tough situations. And the teams of Brant/Myrick and Wood/Prica came through today in three set matches," Hansen said. "On a day like today it's easy to get distracted by cold, wind, slower play. I thought our guys did a good job of playing disciplined and aggressive."

The Eskymos are off until Monday when they travel to Gladstone.

Pictured above: Eskymo junior Jake Eastin lunges after a ball during Thursday's match. Click the ARTICLE HIGHLIGHTS thumbnails to see more photos from the match.

The results:

Singles
1 Austin Martin E
def
. Dave Luplow M 6-4 6-3
2 Tyler Myrick E def. Bret Anderson 6-4 6-4
3 Kyle Pinozek E def. James Evans M 6-3 6-4
4 Mike Shields E def Nate Antilla M 6-4 6-0
Doubles
1 Dave Fix/Jake Eastin E def. Tim Baxa/Tyler Boye M 6-1 6-4
2 John Brant/TJ Myrick E def. Ryan Woods/Chad Schuelke M 6-4 3-6 6-3
3 Carter Murray/Hunter Bradford E def. Jake Henes/Lucas Pederson M 6-4 6-3
4 Steve Wood/Steve Prica E def. Chris Kelley/Colten Fernstrum M 6-3 6-2