Eskymos Rally For Walk-Off Win Over Negaunee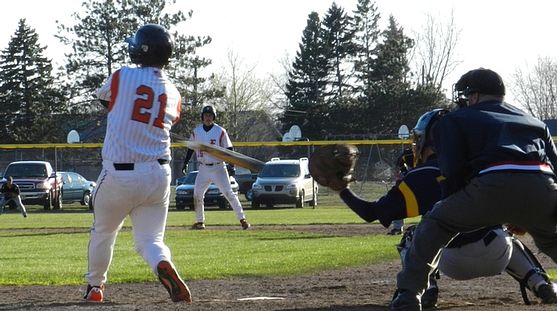 ESCANABA----The Escanaba Eskymos found a way. Again. The Eskymos managed only four base hits...just two out of the infield...but they managed to pull off a come-from-behind 6-5 win over the Negaunee Miners Thursday night at Al Ness Field.

The Eskymos used their team speed, and two big defensive errors, to rally from a 4-1 deficit in the sixth inning, and a 5-4 deficit in the bottom of the seventh inning.

"Everyone contributed and I was proud of the boys," Eskymo Manager Kirk Schwalbach said. "We hung in there. It wasn't our best baseball. But give Negaunee credit for that, too. Their pitchers threw well. It's an ugly win, but it's a win."


Kirk Schwalbach talks strategy with Austin Young and Ben Kleiman (8).

The winning runs came in the bottom of the seventh inning as Austin Young led off with a walk. He stole second, and then stole third. Ben Kleiman was hit by a pitch, and he stole second in the "first and third" situation.

Nick Vandermissen fought off several pitches from Negaunee reliever Dan Brown, then got a fly ball to score Young with the tying run.

That put Alex DeHaan at the plate. A couple of pitches into the at-bat, Kleiman all of a sudden took off for third base. He made it.

Luckily for him, he made it.

"I saw the catcher wasn't looking too much at me," Kleiman said. "So, I thought to myself, 'in a couple of pitches, if he's still not looking, I'm going'. I gambled and it paid off. But he (Schwalbach) would've been so angry if I would have got out."

"I told Ben when he got to third that he's got to remember that in a situation like that, if he gets thrown out third, we both look like fools because he was the winning run," Schwalbach said. "(But) he showed a lot of savvy and showed that he's not afraid to take a chance."

Then DeHaan hit a ground ball to Tyler Jandron at short. Jandron faked several times at Kleiman off of third base, but he hurried his throw to first to get DeHaan. The throw was wide of the bag, and the Eskymos won it on the error.


Cam Beversluis scored the team's first run.

"It's a walk-off win and I'll take it," Schwalbach said. "Hopefully this will give us some momentum going into Saginaw this weekend."

Escanaba had very little success against Jandron when the sophomore was on the mound. The Eskymos got just two hits off of the lefty in four innings, but one of them was a shot to the fence by Ian DeMarse that scored a run in the second inning.

That run put the Eskymos up 1-0, and sophomore Jeff Lyle was pitching well on the mound. He shut them down for three innings, but in the fourth inning, a missed pop up hurt the Eskymos. This one was off the bat of Dusty Goupille, and it landed between three Eskymos a couple of feet away from third base. Schwalbach was disappointed in that lack of communication.

"There's no excuse for that kind of stuff," the coach said. "Do I have to hit 150 pop-ups at practice? The other game, it was the sun. Now, it's the pop up and we don't judge the ball well. You can't give teams four or five outs. We've got to get better at that, definitely."


Ian DeMarse RBI hit.

Zak Makela and Jandron followed with RBI hits and it was 2-1. A nicely-turned double play by second baseman Nick Vandermissen, shortstop Kleiman, and first baseman DeMarse kept the inning from becomming worse.

But in the fifth inning, it did get worse for Escanaba as freshman Tyler Skufca made an error at second base. Kleiman....now on the mound for Lyle...walked Cory Larson and gave up a hit to Tyler Lajoie. With the bases loaded, Goupille came through with a two-run single to give the Miners a 4-1 lead.


Negaunee pitcher Tyler Jandron.

The Eskymos rallied in the bottom of the sixth inning, and an error by the Miners second baseman started the inning. A one-out walk to DeHaan put two men on, and then a key play happened when David Falish hit a ground ball to short. Jandron elected to throw home, and the Miners thought they had a force play at the plate.

Problem is, the bases weren't loaded. So, Kleiman scored to cut the lead to 4-2, and Falish was safe at first. After Cam Beversluis walked, Tim Lueneburg came to the plate.

Several pitches into the at-bat, Lueneburg fouled one off his leg. It clearly stung him.

"I fouled it right off my shin," he said. "It didn't feel so good at all." Lueneburg stayed in the game and hit a fly ball past the drawn-in infield.

"I just tried to focus on waiting for that curveball and then I hit it to right field," Lueneburg said, then he added: "It hurt when I was running to first really bad!"


Tim Lueneburg's big hit.

"I'm glad it wasn't a shot in the gap because I don't think he could've made it to second," Schwalbach said. "He fought it off. It was a good pitch, and he got enough of it to get it through their drawn-in infield. That was a big hit. I told Tim that maybe we don't win the game if he doesn't get that hit."

Two runs scored, and the game was tied, 4-4. But in the top of the seventh, the Miners regained the lead as Tyler Lajoie singled (his third hit of the game) and stole second. He went to third on an infield hit by Goupille and scored on a grounder by Zak Makela.


Ian DeMarse had a clutch RBI hit to the fence.

But then came the bottom of the seventh, and the Eskymos "found a way" again, just as they did last season when they beat Negaunee in the bottom of the seventh inning after trailing that game, 4-0. Kleiman earned the pitching win, going the final three innings.

"Every one of my pitches was moving good," Kleiman said. "They all seemed to hit the strike zone pretty well."

The Eskymos improved to 8-4 on the season, while the Miners were playing their first game.

Escanaba's boys will board a charter bus Friday morning and head downstate to Saginaw to compete in Saturday's baseball showcase with Mt. Pleasant, Saginaw Heritage, and Traverse City Central. The Eskymos-Saginaw Heritage game starts at noon, and the game against Mount Pleasant starts at 2:30. (Escanaba does not play TCC)

Both Eskymo baseball games from Saginaw will be broadcast live on WCHT-AM (600), and the games will be streamed live on-line at www.rrnsports.com.