Eskymo Baseball Prepares For Saginaw Showcase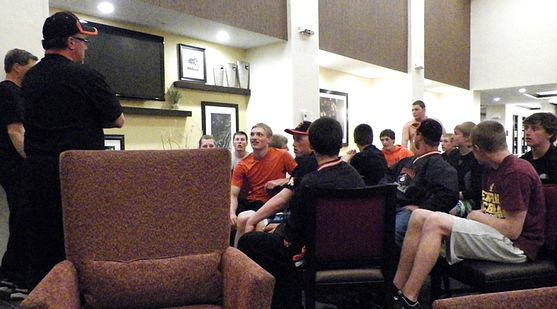 SAGINAW---The Escanaba High School baseball team arrived by charter bus in Saginaw on Friday in preparation for their appearance in Saturday's Baseball Showcase at Saginaw Heritage High School. The Eskymos had a Friday afternoon practice, had a meal at Buffalo Wild Wings, and spent a little time in the hotel hot tub.

Click the thumbnails in the HIGHLIGHT ARTICLES box at the upper right of this page to see some pictures from the team's day of relaxation.

Also, the Eskymo team and individual statistics have been updated. Click the link at the lower right of this page to see the charts.

The Eskymos face Saginaw Heritage at noon, and Mt. Pleasant at 2:30. Both games will be broadcast on WCHT-AM (600), and here on-line at rrnsports.com.