Eskymos Beat Saginaw; Nearly Topple Mt. Pleasant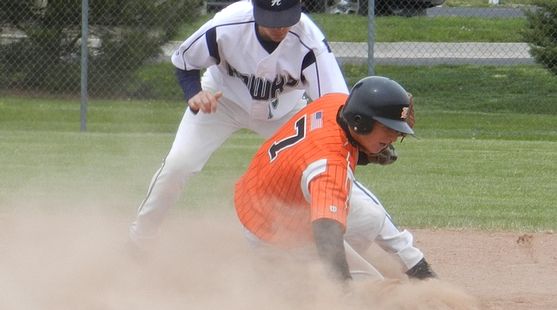 SAGINAW---They sat in the dugout (or stood next to it) on Saturday with big smiles on their faces, chanting on every pitch the way they did when they were Little Leaguers.

It was the Escanaba High School baseball team, cramped into a dugout so small that all of the kids couldn' t fit in it, having pure baseball fun.
Meanwhile, on the field of play, this collection of mostly underclassmen were giving a huge challenge to the mighty Mount Pleasant Oilers, a program that has been to the state's semifinals or quarterfinals almost every year for the past two decades.

But here they were, the young Eskymos, leading the Oilers and their longtime coach, 1-0, in the fifh inning. A team that was used to getting its way, sporting a 13-1 record against Mid-Michigan competition that us Yoopers almost never see, was on the ropes.

Sophomore Ben Kleiman vs Mt. Pleasant.
The Eskymos made a couple of mistakes in the fifth and sixth innings that led to four unearned runs and the Oilers escaped with a 5-2 win at the Saginaw Baseball Showcase.

But even after those errors happened, the boys battled right to the end, forcing Mount Pleasant to use a relief pitcher in the seventh inning just to secure the victory.

"I came in (to the dugout) and I told the boys, 'hey, we're right there, 1-0!" Eskymo Manager Kirk Schwalbach said. "Could we have won that game? Yeah, with a few hits here and there. But I can't express how proud I am of the boys. I think that they're gonna start to believe in themselves more, which is great."

"We just wanted to have fun," Eskymo junior pitcher David Falish said after he allowed just one earned run in six innings against the Oilers. "Our dugout was loud and we did all the little things right."

"They're one of the elite teams in Michigan," Eskymo senior Alex DeHaan said. "I've been hearing about them all through my high school career. We finally got a look at them today and they are one of the greatest teams I've played against. I'm glad that our guys came out and did what they did, with all of the youth on our team. It was really nice!"

Cam Beversluis in left vs Mt. Pleasant.
Earlier in the day, the Eskymos had pounded out 15 hits and beat the Saginaw Heritage Hawks, 7-3. At the time, that seemed like that win would be the team's biggest accomplishment of the day, as the 18 players and three coaches got congratulations from the two dozen or so Eskymo fans in attendance.

But what happened in the next game against Mt. Pleasant easily overshadowed that much-needed victory.

Escanaba got the early jump with a two-out rally in the top of the first inning. Nick Vandermissen got an infield hit, went to second on a wild pitch, and scored on a sharply-hit single by DeHaan.

And for the longest time after that run scored, David Falish kept it a 1-0 game, with the help of some good defense behind him. With a stacked line-up that included University of Michigan recruit Evan Hill, the Oilers hit the ball well, but Cam Beversluis made several good catches in left field, and Austin Young tracked down two balls in center.

Falish snared a hard-hit ball during his follow-through off the mound, and the junior right-hander was able to throw just enough "junk pitches" to keep the Mt. Pleasant batters off-balance.

David Falish pitched his best game.
"You've got to give Dave tons of credit," Schwalbach said. "He wasn't overpowering, but he pitched. He pitched to his spots. He changed speeds. He did a nice job, he enjoyed it, and he wasn't intimidated by anybody. I think the other team was impressed with the character of our boys and how they acted on the field.

"I think I was pitching too slow for them to hit it," Falish laughed. "My changeup was pretty good because they were already early on my fastball. I was throwing my fastball, and they were telling their players to wait on it!"

While Falish was doing his stuff on the mound, the Eskymos had numerous chances to build on the 1-0 lead. Beversluis led off the second inning with a single, but was left stranded there. DeHaan had a two-out single in the third, but was also stranded on base. In the fourth inning, with two out, Sean Bissell was safe on an error and Jeff Lyle walked. But Austin Young popped up to end the inning.

In the fifth inning, Vandermissen and DeHaan got back-to-back singles with one out. But Falish grounded into a fielder's choice play and Tim Lueneburg bounced out. So, it was still a 1-0 game.

Logan Echelberger led off the bottom of the fifth by hitting a 3-2 pitch into left field for a single. Doug Cesena bunted him to send, and #9 hitter Colton Kirk got a base hit to put runners at the corners. Oiler leadoff man Dustin Lee hit a line shot to left the Beversluis got to with ease. But instead of getting the second out, Beversluis, in his haste to throw for a possible tag play at the plate, dropped the ball.

Mt. Pleasant pitcher Ryan Elliott.
That scored a run, and gave the Oilers the opening they needed to pounce on the Eskymos. Dan Pulver followed with a sacrafice fly (caught nicely by Beversluis) to put the Oilers in the lead, and then Ryan Elliott followed with an RBI single. It was 3-1.

Escanaba got another scoring chance when Jeff Lyle walked and stole second in the sixth inning. But the next three Eskymos went out, two of them on strikes. Then in the bottom of the sixth, the Oilers took advantage of more mistakes to expand the lead.

Cory Williams started the rally with a perfect bunt single. He stole second, and scored on a single by Echelberger. That made it 4-1, then another run came in when a bouncer eluded Lueneburg at third and Bissell threw one away from behind the plate.

Even so, the Eskymos weren't done, despite being down 5-1. Ben Kleiman led off with a single and went to second on a wild pitch. Vandermissen followed with a single to put two men on, and longtime Oiler Coach Luke Epple had to go to the bullpen.

Alex DeHaan RBI
Epple pulled his starter, Elliott, in favor of his closer, Pulver. But DeHaan greeted Pulver with an RBI single to right field, scoring Kleiman and making it a 5-2 game. Then Falish drew a five-pitch walk, so the Eskymos had the bases loaded with no outs.

Unfortunately, pinch hitter Devin Olsen and Beversluis both took called third strikes. And the game ended when pinch hitter Bailey Lamb hit a high fly to left field. The Eskymos left 12 men on base in the game, after stranding 13 men on base in the earlier win over Saginaw Heritage. Still, Schwalbach was happy with what he saw.
Alex DeHaan had a big day.
"Well, we were facing some pretty good pitching down here, so give them some credit, too," Schwalbach said. "The boys played great. We had a blast."

There might be another reason why DeHaan went 4-for-4 against Mt. Pleasant.

"I changed my superstition a little bit," the talkative DeHaan said. "I went up there without any batting gloves on. It helped out. You do what you gotta do!"

In the first game of the Showcase, the Eskymos got the early lead over the host Hawks when Young led off with a double, went to second on a groundout, and scored on a Vandermissen sacrafice fly.

In the second inning, Falish hit a pop fly that landed when neither the first baseman or right fielder caught the ball. Then the Hawks committed two straight errors before Lamb drove Falish home to make it 2-0.

But the Hawks teed off on DeHaan in the bottom of the second. Four hits, including an RBI triple by Tanner Davis and RBI singles by Zach Fornwalt and Ray Karpuk, gave the Hawks a 3-2 lead. But in the third inning, the Eskymos came right back as Lamb drove home one run with a single and Bissell ripped an RBI single to left-center field.

In the middle innings, DeHaan had complete command of his pitches, and had the Hawks batters guessing. DeHaan helped his own cause with an RBI single in the fourth inning to make it 5-3, but through it all, they couldn't get the hit to put it away.

Eskymo sophomore Jeff Lyle.
"There's a difference between 'command' and 'control' of your pitches," Schwalbach said. "Control is throwing strikes. Command is throwing pitches in the zone where you need to throw it. Alex did that today. He pulled a muscle in his leg and it hurt him, but he wanted to finish. When he can throw that changeup even near the strike zone, it just makes his fastball that much better."

"It was a lot of fun pitching and my defense really worked for me and helped to get me a lot of outs," DeHaan said. "I felt a little 'out of it' in the first two innings, but things really got better in the third and fourth, and things started to die down in the fifth and sixth. But I pitched 'with economy', and we did good.

Bailey Lamb RBI.
In the sixth inning, Lamb's sacrafice fly for his third RBI of the game made it 6-3, then in the bottom of the inning, DeHaan got the first two batters (including Keith White on a 12-pitch marathon at-bat). But DeHaan ran into troubles when he walked three straight batters to load the bases. He was able to get pinch hitter Hunter Kostel on a ground out to end the threat.

Escanaba added an insurance run in the top of the seventh when Young was safe on an error, stole second, and scored on a hit by Vandermissen. Then Kleiman got the final three outs in relief of DeHaan, and the Eskymos had their biggest win of the season.

Sean Bissell RBI
"We can take a lot from this weekend," Schwalbach said. "I told the kids how proud I am of them. They played some good baseball. They had a lot of fun. You could tell that the dugout was loud, they were in the game. Coming in, I didn't know how it would go. But you have to walk away being impressed with these kids. It's a team-building weekend."

The Eskymos (9-5) travel to Stephenson on Wednesday to face the Eagles for the second time in a week. Game time is 6:00 (ET). Listen on WCHT-AM (600), and rrnsports.com.

Click the ARTICLE HIGHLIGHTS thumbnails at the upper right portion of this page to see pictures. Thanks to Kevin Lyle and Sheila Olsen.