Braves Sweep Singles, Top Eskymos In Fun Rivalry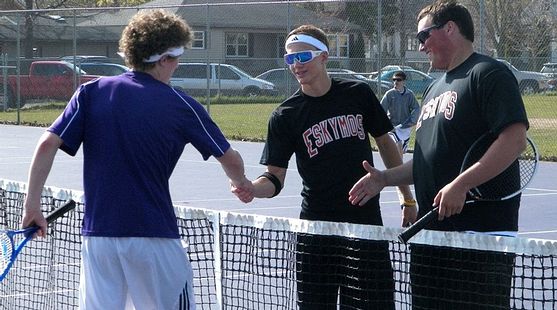 GLADSTONE---The Escanaba Eskymos and Gladstone Braves always have good, hard-fought battles when they face each other, no matter what sport it is.

But in Tuesday afternoon's tennis match in Gladstone, the rivalry was a little more intense, and a little more fun. That's because some of the boys on the Gladstone team were members of the Escanaba High School hockey team this winter as part of the co-op arrangement between the two schools in that sport.

And so there it was, at #2 singles, Gladstone's Dan Williams going head-to-head against Escanaba's Tyler Myrick. And one court over, at #1 doubles, you had Gladstone's Bryce Wolf facing Escanaba's Jake Eastin as part of that doubles match.


Gladstone's #1 singles Aaron Parmet

The result? Well, amongst the hockey players, anyway, it was a split. Williams won the singles match for the Braves, while Eastin and his partner, David Fix, won the doubles match for the Eskymos.

As for the match itself, the Braves won all four singles matches and took the #2 doubles match and beat the Eskymos in the team score, 5-3. Gladstone's Aaron Parmet turned in another dominating performance at #1 singles. He easily discarded Eskymo Austin Martin, 6-1, 6-0. The match took less than 40 minutes to complete, similiar in length to Parmet's win against Gwinn's #1 singles player last week.

Williams and Myrick had several long rallies in their #2 singles match, but Williams used the lines to his benefit and won, 6-2, 6-1. Neal Sabin had a rougher time at #3 singles, but managed to top Eskymo John Brandt, 6-4, 7-5.

And at #4 singles, the Braves' Hans Ahola pulled out a three-set win over Kyle Pinozek, 3-6, 6-3, and 6-1.


Escanaba's #4 singles Kyle Pinozek.

On the doubles courts, Eastin and Fix won two tight sets, 6-3, 7-5, as Wolf had trouble on his serve and his partner, Cody Frazer, had t0o many shots go wide. But at #2 doubles, the Braves got that all-important fifth victory as Josh deVet and John Hammar turned back the young Eskymo team of T.J. Myrick and Mike Shields, 6-3, 6-3.

Escanaba easily won the final two flights, with Eskymo seniors Hunter Bradford and Carter Murray beating Gladstone sophomores Pete Weyers and Christian Tackman, 6-3, 6-3.

And at #4 doubles, Esky's Steve Wood and Steve Prila topped Gladstone's Tyler Wells and Jeremy Kadish, 6-0, 6-3.

Escanaba plays at Iron Mountain on Thursday, while Gladstone hosts Kingsford, also on Thursday.

Click the thumbnails in the 'ARTICLE HIGHLIGHTS" box at the upper right of this page to check out a dozen pictures from the match, as well as video highlights from the #1 doubles and #2 singles matches.