Eskymo Girls, Kingsford Boys Win Track Dual Meet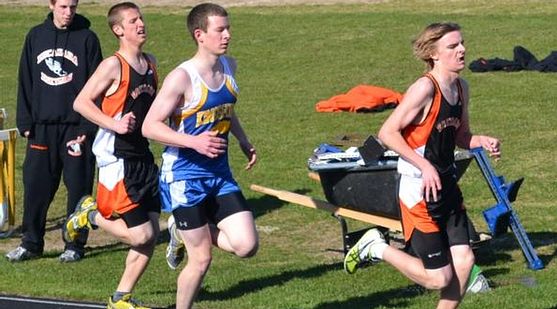 ESCANABA---It was a split decision on Tuesday as the Escanaba Eskymos and Kingsford Flivvers got together in a track meet at the Escanaba High School Track.

The Eskymos won the girls meet, 101-36, while the Flivvers won the boys meet, 99-38.

In the girls meet, Olivia Nash won the 100 meter dash (13.59) and high jump (5') and she was second in the 200 meter dash. Morgan Mathieson won the discus (93'07) and shot put (27'07). Kingsford's Carlee Benzie won the 200 and the long jump.

Other Escanaba winners: Lynsey Collins (300 hurdles), Joanie Stacey (3200), and Elise Oswald (800).

In the boys meet, Escanaba's Andrew Stenberg won both the 1600 and 3200 meter runs, while teammate Jake Walker won the 800. But the Flivvers had too much depth and easily overcame Escanaba's success in the distance runs. Cole Tengesdahl won the 100 and 200, while Nick Maycunich won two hurdles events for Kingsford.

Pictured: Escanaba's Stenberg is first and Jared Ogren is third.