Softball Post-Season Opens With Lopsided Games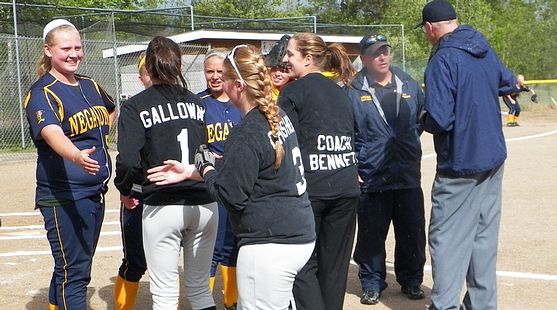 GLADSTONE----Gladstone High School hosted the softball district tournament for the first time in school history on Tuesday. But there wasn't much drama on the field.

The Gwinn Model Towners showed up with only eight players, and MHSAA rules state that you must have at least nine at the beginning of a game. So, the game was forfeited to the Houghton Gremlins, 6-0, and the teams scrimmaged for an hour.

Then, the second Division Three game lasted just three innings, as the Negaunee Miners whipped the Pickford Panthers, 15-0.

So, on Friday, Manistique plays Houghton at 1:00, Gladstone plays Negaunee at 3:00, and the championship game will be played at 5:00. Gladstone's games will be broadcast live on WCHT-AM (600), and on-line at www.rrnsports.com.


Rockets celebrate during an earlier game. (Cara Brockway photo). Happy Birthday Cara!

DIVISION FOUR RESULTS---In Norway, there was a tripleheader, and all three of the D-4 games were blowouts.

In the opener, Rapid River rolled past Munising, 19-0. Then Superior Central whipped Stephenson, 16-1. And in the nightcap, Ironwood topped the host Norway Knights, 14-2. Norway was hosting for the first time in school history.

On Friday, Rapid River will play Newberry in the first semifinal at 1:00 ET . Superior Central will face Ironwood at 3:00. The championship game will be played at 5:00 at Marion Park.

HEAVY RAIN IN EASTERN U.P.---The Division Four district tournament in Rudyard was postponed by rain on Tuesday. So, on Wednesday, St. Ignace will face Rudyard and Brimley will take on Maplewood Baptist. That tournament ends on Friday as well, with semifinals and finals in Rudyard.