Braves Run Out Of Gas In 'B' Regional Final, 63-48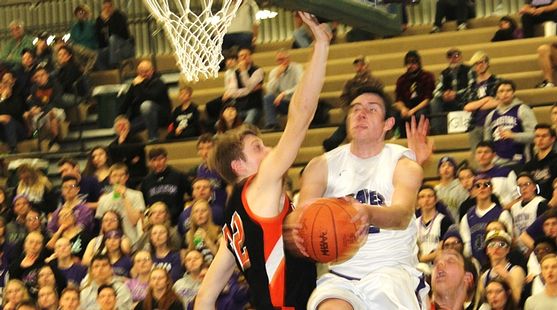 GRAYLING---It was an uphill battle all night long for the Gladstone Braves, even though for most of their Class B regional championship game against the Ludington Orioles, they weren't behind by much on the scoreboard.

But trailing by three, five, and seven points felt like a lot more at times because the Braves couldn't find the rythym and consistency they normally have in their offense.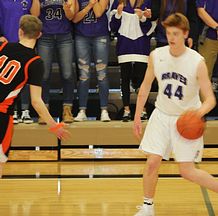 Ludington played strong defense, hit some timely shots, and rebounded well. That added up to a 63-48 Orioles victory, sending Ludington into the Class B final eight.

The final score is deceiving, as the Orioles led just 36-33 entering the fourth quarter. But they hustled to every loose ball, grabbed numerous key rebounds, and seemingly took advantage of every Gladstone mistake down the stretch.

"They're obviously real well-coached and they're nine guys deep," Gladstone Coach Clayton Castor said. "They get out and push the ball."

"I thought they got away with an awful lot of no-calls tonight. I've never been in a game where the ball-handler can be pushed to the floor repeatedly, or chested, or bumped like that. But regardless, we had our chances. You've got to give it up to them."

"They did a nice job."

The Braves got off to a nice enough start, as the Orioles were ice cold from outside and Joe Gibbs and Reece Castor each hit first-quarter three-pointers. It was a 12-12 game after the first eight minutes, and then Gibbs had a sweet slam dunk in the second quarter and Ben Schwalbach swished a three-pointer. Gladstone led the game, 22-18.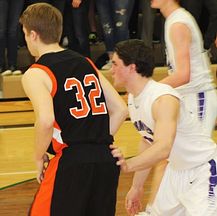 But the final three minutes of the second quarter were a struggle as Ludington scored seven straight points and the Braves turned it over three times. The Orioles led, 25-22.

In the third quarter, Calvin Hackert nailed two long three-pointers and Noah Laman added a triple to help Ludington take a 36-29 lead.

But Brad Spindler scored a couple of baskets in the final minute of the third quarter, pulling the Braves to within 36-33.

It was a 46-40 game when the wheels fell off for the Braves, with Sam LaDuke getting a pair of steals and turning them into points in the other direction. A 9-0 run for Ludington put the game away, making it a 55-40 contest as time would down.

"You coul call it lazy, but I would call it 'tired'," Castor said. "They pressure you into a lot of things you don't want to do. I think they deserve the credit. Our kids worked their tails off. Sometimes when you see that pressure, though, kids revert back to doing out-of character-type things. We saw that a lot tonight with turnovers."

Reece Castor led the Braves with 18 points. Gibbs and Spindler each had nine.

Hackert had 17 points for Ludington, which had four players in double figures.

Gladstone finishes 18-6 on the season, and will say goodbye to five seniors: Gibbs, Schwalbach, Hunter Botruff, Jack Stephenson, and Casey Wolf.

Ludington improved to 23-2 and will face Lake Fenton in the quarterfinals.

Click the thumbnails in the ARTICLE HIGHLIGHTS box above to see photos taken by Joyce Ness and videos taken by Mike Dagenais. Thanks to both!