Eskymos Confident As 2017 Football Practice Begins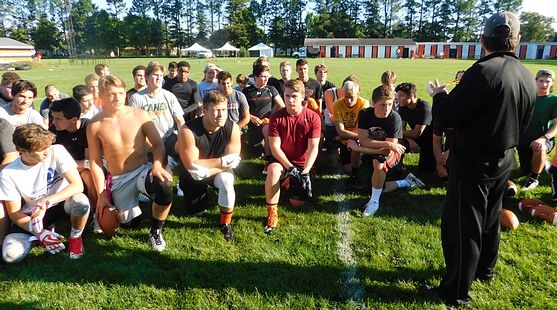 ESCANABA---High School football practices got under way on Monday across Michigan. In Escanaba, the Eskymos started working again after winning two playoff games last fall. Escanaba beat Whitehall, 48-27, and Alma, 31-13, before losing to Grand Rapids Catholic Central in the Division Four regional championship game, 31-0.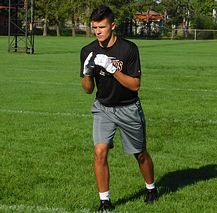 Escanaba Head Coach Dave Howes says there's a lot of healthy competition at many positions.

"I'm seeing a lot of kids fired up," Howes said. "We have close to 50 kids, and they're excited for the season. The coaches are all fired up, and we're looking forward to something special, hopefully, this season."

""I think we're going to be pretty solid, pretty strong," Escanaba safety Hayden Haslow said. "Our front five (on defense) is going to be pretty tough, and our DBs this year are pretty good. We'll be pretty solid all around."

"I think it's going to be a good season," Escanaba quarterback/running back Scout Wunder said. "We've got a lot of good guys coming up. Quite a few seniors should be starting this year, and we've got a couple of good juniors coming up, too."

The Eskymos are practicing from 7:30 until noon, with a break for food at 9:30 in the morning.

So, how'd the first practice go?

"It was a pretty solid practice," Escanaba offensive lineman Johnny Schlenvogt said. "We had a lot of intensity coming out of our big guys. Skills were looking real solid. It's going to be a good season. It's good having a lot of competition. Like Coach said earlier, we're going to be the hunted team this year. A lot of people are going to want to come at us, but we'll just say, 'let 'em come'!"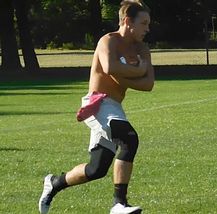 "I thought it went well," Haslow said. "We got on each other a little bit. Went pretty hard. Got a good sweat going."

There is one huge noticeable change to practice this summer: three large white tents and two blue portable toilets near the practice fields.

That's all the boys have for now because their locker room and shower facility, nicknamed the Igloo, has been deemed unsafe to be used by the team because of a lot of mold, and other issues.

Crews are working to disinfect the building.

"They keep us out of the sun, at least," Wunder said, when asked about the tents. "It kind of sucks not having a locker room for a little bit, but it should be good."

"It's definitely not a good thing," Haslow said. "But we've got these tents here behind us and they're pretty nice. Also, we get to go under the grandstand to get out of the sun and get a little break."

"It's all right," Schlenvogt said. "Just something to make us tougher, to get ready for the season. Just a little bump in the road."

Escanaba has a scrimmage set for Aug. 18 in Negaunee, and will open the regular season at home on Aug. 25 against the Alpena Wildcats.

Click the thumbnails in the ARTICLE HIGHLIGHTS box above to see photos and videos from Monday's practice, plus interviews with Coach Dave Howes, and Scout Wunder, Hayden Haslow, and Johnny Schlenvogt.