Broncos Hope Increased Numbers Will Equal Wins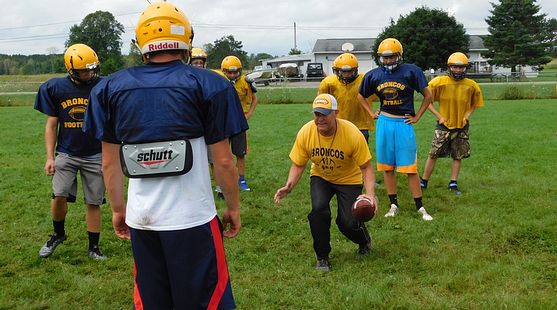 HARRIS---The Bark River-Harris High School football team is hoping that an infusion of senior talent will help the team return to the win column when this season begins later this month. The team is holding spirited two-a-day practices in preparation for the season, with Friday being the first day that contact and full pads were allowed.


"It's really good," BR-H wide receiver Kadin Mustafa said. "Everyone's working hard. I think we're gonna have a great season this year. Since we have more numbers, we can put more people on the field, and give people some breaks, and we're gonna win more football games."

"I think the first week is going great," BR-H fullback Mike Hall said. "Everyone's giving it lots of effort, and we have a lot more kids going out, which is great. We have more players, so that means more reserves, so on kickoffs and kick returns, we can give people breaks, which is great. It (the schedule) will be tough, but we'll do just fine.""



The Broncos enter the 2017 season as one of the only Class D schools still playing eleven-man football in the Upper Peninsula, as many have switched to eight-man ball.

Last season, the Broncos struggled with injuries at key positions and ended up with a 3-and-6 record. But this season, the Broncos have better numbers, with a total of 23 players on the varsity roster, including several seniors who did not play as juniors.

"Last year, we were difinitely depleted," BR-H Coach Al Stenberg said. "We started with around 18 kids on varsity, with several sophomores up. We lost a handful of kids throughout the course of the year, and finished with eleven healthy juniors and seniors. This year, we have some guys who were sophomores last year who got a lot of experience, so we expect them to play like seniros, rather than juniors."

BR-H opens its season at home on August 25 against West Iron County.

Also, Meet the Broncos is set for this Sunday night, August 13, at 6:00, at the school.


Click the thumbnails in the ARTICLE HIGHIGHTS box above to see photos, video interviews with Hall and Stenberg, and audio with Mustafa.