Bay College, YMCA Unveil Renovated Gym Facilities
ESCANABA---Bay College unveiled its brand new basketball facility Wednesday morning.
The college spent around $250,000 to renovate the old YMCA Gym to turn it into a facility capable of hosting junior college basketball games for the first time since the 1970s.

Members of the Delta County YMCA will also benefit, as the gym is accessible to people with "Y" memberships for pick-up games.'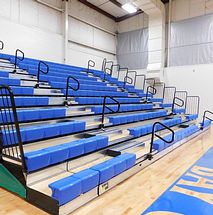 "The members are really appreciative and enjoying it," YMCA Executive Director Gary Nash told RRN News. "As they go by, the peak in through the windows as the progress is being made. They're very excited for it. Guys who come in and play noon ball, and kids who come in for open gyms, are feeling that they're playing in a very exciting basketball environment, so everybody's fired up about it."
There was a lot that went into the project, which began right after the Bay College commencement ceremonies were held in the old gym back in May.

The women's basketball team, in fact, held its first practice there Wednesday morning, and Athletic Director Matt Johnson says everything is ready to go.
"We pretty much renovated the entire building," Johnson told RRN News. "We took everything down to the walls, repainted the walls. We refinished the floor, sanded it down, restriped all of the lines. Obviously, put the new logos and such down on the floor. New bleachers are in. New scoreboards. New baskets. Six new backboards. Renovated a training room."
Johnson says that most of the money to renovate the facility came from fundraising.

"We couldn't have done this without the support of, obviously, our administrative team at the college, Dr. (President Laura) Coleman, and the board," Johnson said. "Our community has been incredibly supportive. Much more so than I even expected. The money has been generously donated us, or gifted to us, by our community."

Bay College Women's Basketball Coach Rae Drake says it's a big plus for his program.

"The girls love it," Drake said after holding his first practice. "It's going to bring kids in, too. I think it helped to get a couple of recruits to come here, especially the girls from Milwaukee and Indianapolis. This facility is beautiful, and it's such a tribute to the community."
Bay College hosts its first basketball games on November 1st against the University of Wisconsin-Marinette. The public can get a first look at the Norse teams on Saturday, October 21st, when the Sault College teams come in for a pair of exhibition games.
You will be able to hear every Norse basketball game, home and away, on WMXG-FM (Maverick 106.3), and on-line at www.radioresultsnetwork.com.