Houghton Tops Gladstone To Win Rock VB Tourney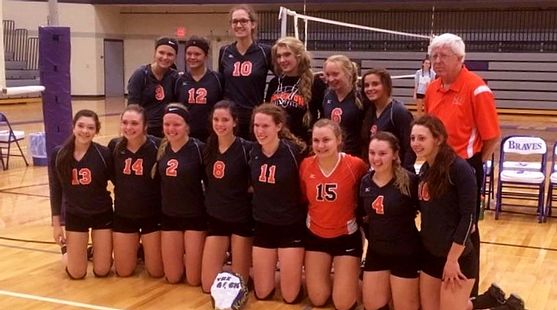 GLADSTONE---The Rock almost stayed in Delta County.

But in the end, the trophy that ten high school volleyball teams battled for on Saturday in Gladstone, went back to the Copper Country again.

The Houghton High School volleyball team won the championship of The Rock Invitational on Saturday in Gladstone. The Gremlins topped the host Braves, 2-0, in the final.

The day began with two pools of five teams playing in a round-robin format. The top three teams in each pool advanced to bracket play. Rapid River, Norway, Hancock, and Westwood all failed to advance out of pool play, leaving six teams.

Escanaba and Gladstone each took top spot in their respective pools, so they advanced to the semifinals. Gwinn beat Ishpeming, 2-0, in one "play-in" match, while Houghton downed Kingsford, 2-0, in the other. The semifinals would both be down-to-the-wire matches.

In one match, Houghton outlasted Escanaba, 2-1. In the other, Gladstone edged Gwinn, also by a 2-1 score. That set up the final, which the Gremlins won again.

Still, for the two Delta County teams, with new head coaches (Adam Lambert in Escanaba, Mariah Yonker in Gladstone), it was a positive experience as the season gets going.

Both Delta County teams are at home Tuesday night, as the Eskymos host the Negaunee Miners and the Braves host the Ishpeming Hematites.