Gladstone Tennis Falls To Westwood At Home, 6-2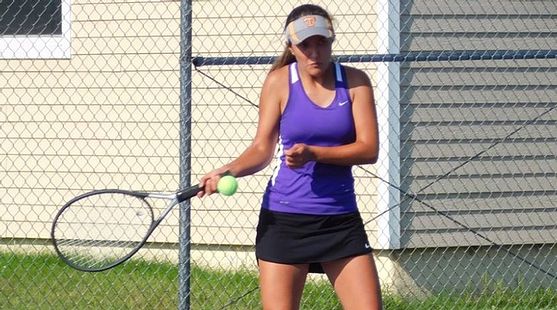 GLADSTONE---The Gladstone High School tennis team dropped a 6-2 decision to the Westwood Patriots Monday at Pfotenhauer Park.

The Braves got wins at #1 singles from Andie Balenger, and at #1 doubles from Sydney Herioux and Taylor Trudeau. The Patriots won every other flight, but Gladstone Coach Dan Williams says he was encouraged by much of what he saw from his team.

"Even though all of the scores don't reflect it, I think we were very competitive today," Williams said. "We were right there with them in most of the matches. Westwood is a good team, and I feel we had a good day against them today."

Balenger defeated Westwood's Marissa Carello in straight sets, 6-4, 6-4.

"I was impressed with Andie," Williams said. "She started out really slow and went down 0-3, but made some adjustments in her game and ended up winning a touch match. What I liked was that she was able to adjust her game and try different things that helped her a lot today."

In the doubles match, the Herioux-Trudeau dup had a rough first set, losing 6-0. But they evened the matchwith a 6-4 win in the second set, then won a marathon third set, 7-6, by winning all seven points in the tiebreaker.

"They got crushed in the first set, (but) started placing the ball better and did not hit as much to the 'net person'," Williams said. "That made a big difference. They fought the whole time, and ended up winning it in a third set tiebreaker. Great way to finish the match!"

Westwood won the other three singles matches in straight sets, and the Patriots won the #3 and #4 doubles matches by 6-1, 6-3 scores.

The #2 doubles match went the distance, with Westwood's Tess Parrow and Aubrie Magnuson topping Gladstone's Shelby Martinucci and Hannah Sharon (2-6, 6-2, 6-1).

Gladstone is back in action on Tuesday, on the road at Iron Mountain. The Mountaineers played to a 4-4 draw against Kingsford on Monday.