Norse Reveal Basketball Schedules; Tickets On Sale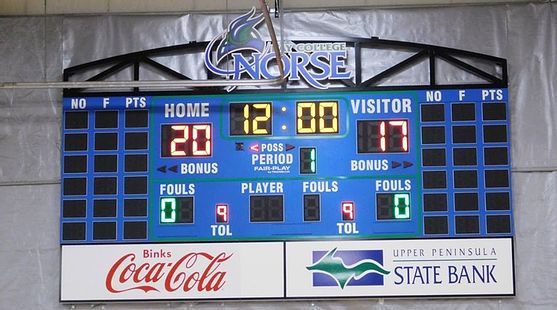 ESCANABA---The 2017-18 Bay Norse schedule features 30 games against competition from across the Midwest, including 13 games at home.

The Norse men return for their first season of intercollegiate competition since the 1978-79 season and the Norse women will field their first team in school history.

"We have pieced together a very competitive independent schedule, featuring some of the premier Junior College programs across the Midwest and some former rivalry games with Gogebic, Finlandia (formerly Suomi College), and Alpena," Director of Athletics, Matt Johnson said, "It will be exciting to rekindle some of those rivalries from years past".

Bay will play its home schedule at the Bay College/Northern Lights YMCA Gymnasium in Escanaba. Both Norse teams will open with exhibition games against Sault College (ON) at home on October, 21 and the men will play at Division II Northern Michigan University on October 29th in Marquette. The regular season of Bay Norse basketball begins Nov. 1 against UW-Marinette, at home.
The Norse will spend the following weekend at the Koingsmark Classic in Mason City Iowa (Nov. 3 & 4) and will play Ellsworth (IA) Community College in the first round.

The 2017-18 schedule will feature three additional road tournaments, the Lindquist Classic in Ironwood, MI (Nov 24 & 25), St. Claire County Classic in Port Huron, MI (Dec. 1 & 2), and the Gogebic Winter Classic in Ironwood, MI (Dec. 15 & 16).

Bay's home tilt will feature games against Alpena Community College (Nov. 8), Mid Michigan (Nov. 11), Lake Superior State JV (Nov 20), UW-Fond du Lac (Dec. 9), the Quality Inn & Suites Holiday Classic (Dec. 29 & 30), UW-Superior JV (Jan. 8), Finlandia (Jan. 13), Silver Lake College (Feb. 9), UW-Fox Valley (Feb. 10), and Gogebic (Feb. 24).

All Norse games will be broadcast by Radio Results Network on 106.3 The Maverick and online at RRNSports.com.

You can view the entire schedule and purchase single game and season tickets at www.baynorse.com or by visiting the Bay College box office.