Bay College Norse Basketball Preparing For Seasons

ESCANABA---The start of the first-ever Bay College Norse basketball season is just two weeks away, with the teams scheduled to host UW-Marinette on Nov. 1.

The teams practice at completely different times of the day: the men at 8 p.m., the girls at 6 a.m. But both squads are trying to put together the pieces of a successful season.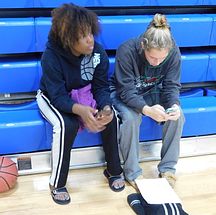 The Bay women's team is short on numbers, especially since Marissa Maino got hurt.

But 2017 Upper Peninsula High School Dream Team selection Jordan Kraemer of Norway is still excited about the start of the season.

"Practice so far has been awesome," Kraemer said. "Coach (Ray) Drake is an awesome coach and we're all learning a lot and exceuting. I think it's all going to come together reallt well."

Saige Roberts is adjusting to life in the Upper Peninsula after moving here from Indianapolis.

"So far, it's something to get used to," Roberts laughed. "I like it. It's quiet. It's nice."

The Norse boys team does not have to worry about having enough bodies to hold a practice, as Coach Matt Johnson has the full complement of 15 players.

Marcus McKenney played in the tough Great Northern Conference with the Menominee Maroons, and he says this college pre-season is going well.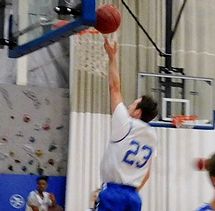 "We've got a lot of talent here," McKenney said. "We've got the best talent in the U.P., and then we added some guys from out-of-state. It's really competitive (in practice), and things are really coming together well."

"You've got to stay up on your courses because you want to be eligible to play, and then we've got conditioning and practice. So, you're going to be tired," he added. "You're going to get to bed late. But you've got to push through it."

Caleb Maki played his high school ball at Painesdale-Jeffers, a Class D school in the Copper Country. He, too, is adjusting to college life.

"It's hard," Maki admitted. "Sometimes, I have workouts and practice right after. So, it's hard on the body, but it's fun, for sure. Defense is a lot harder than where I'm from. Around here, people are a lot stronger, and quicker on defense."

The Norse are scheduled to host Sault (Ontario) College in exhibition action this Saturday. The men will also play an exhibition game at Northern Michigan next Sunday the 29th, before the big season-opening games on Nov. 1 against UW-Marinette.

Click the thumbnails in the ARTICLE HIGHLIGHTS above to see/hear player interviews, and see practice photos and videos.