OVERTIME THRILLER: Marinette Rallies Past Bay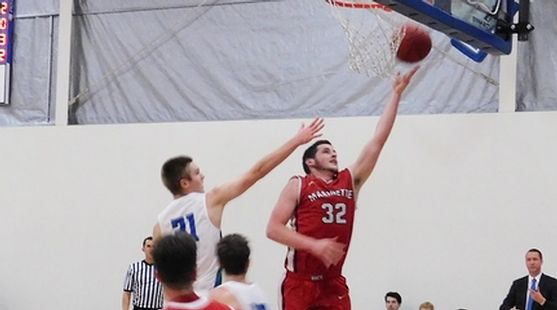 ESCANABA---The Bay College Norse suffered a heartbreaking loss Wednesday in the first men's college basketball game to be played in Escanaba in four decades.

The Norse had leads of 14 in the first half, and ten in the final five minutes, but couldn't hang on, losing to Wisconsin-Marinette, 97-92, in overtime. The game was played before a sold out, standing room-only crowd at the Northern Lights YMCA Gym.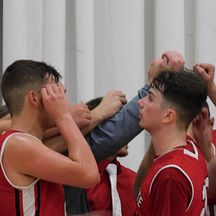 Marinette's Matt Newman snatched victory away from the Norse when he tossed up a desperation three pointer with a man in his face with less than one second left in regulation time, tying the game at 81-81.

The game was tied again at 90-90 in extra time, but the Buccaneers got another hoop from Newman and iced the game at the free throw line.

"I'm disappointed," Norse Coach Matt Johnson said. "Not in my guys. They worked hard, and we did a lot of good things. We clearly got better from Sunday (scrimmage loss to Northern Michigan)."

"But I didn't think we executed well when we needed to."

The final play of regulation developed after Dre Tuominen made a pair of free throws to put Bay ahead, 81-78. The Bucs got it into Newman's hands, and he was hounded by Menominee graduate Marcus McKenney. The defense was there. But Newman launched the shot that hit high off the glass, and through the hoop, forcing overtime.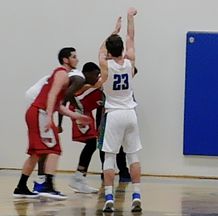 "We had more than enough opportunities," Johnson said. "When you let a team like this hang around, let them hanve a chance to bank in a three at the buzzer, this is exactly what can happen."

"But, the good thing is, this is the first official game that these 14 kids have played in, and if this doesn't leave a knot in your stomach and teach you a very valuable lesson about how important every single possession is, I don't know what will."

The Norse were lifted by a crowd that cheered loudly on every made basket, especially when Gladstone graduate Joe Gibbs took a McKenney pass and pounded home a left-handed slam dunk to put the Norse ahead, 25-11.

But the Bucs rallied behind Levi Kempka's ten points, closing to within 41-35 at halftime, and then Marinette took it to the Norse early in the second half with a 16-4 run as Kempka scored seven more points. Marinette led at that point, 48-43.

Back came the Norse, as McKenney, who did not score in the first half, lifted his team with nine straight points, capping a 12-3 lead that put Bay in front, 55-51. Then Bark River-Harris graduate Jace Briggs finished another Norse run with a basket on the baseline, making it 66-59 with 6:15 left in regulation time.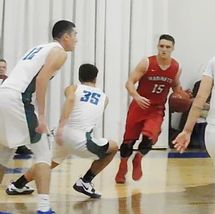 And when McKenney scored again with 4:29 left, it was 73-63 Bay.

But the Norse had a couple of turnovers and Marinette came back with a 10-2 run to close to within 75-73.

And from there, it was back and forth, before Newman, who had just two points for the Bucs at the half, capped the comeback at the buzzer.

Newman ended up with 26 points, second only to Kempka, who led all scorers with 28 points. Kempka was 12-of-14 from the free throw line as Marinette got to the free throw line 37 times, making an incredible 32 of them. Bay was 14-of-20 from the line.

McKenney led the Norse with 22 points. Alfonso Fields had 19, and Tuominen added 16.

Bay College travels to Iowa to take part in a four-team tournament Friday and Saturday. The Norse will face Ellsworth Community College on Friday at 5:00 ET. The game will be broadcast live on WMXG-FM (Maverick 106.3), and on-line at www.radioresultsnetwork.com.

Click the thumbnails in the ARTICLE HIGHLIGHTS box above to see photos and videos taken by Mary Gauthier, and listen to interviews with Johnson and Tyler Willette, and hear radio replays from the game.