OH, SO CLOSE AGAIN! Norse Men Lose Late 67-65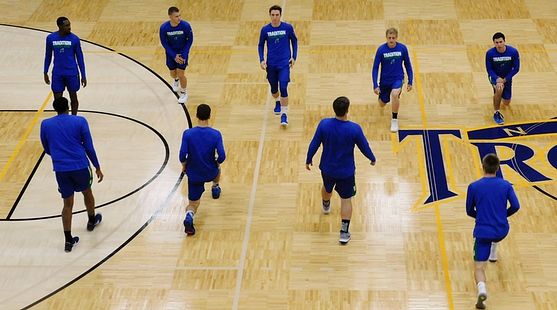 MASON CITY, Iowa---The Bay College Norse men's basketball team had the lead for more than 39 minutes on Friday, but couldn't hang on, and lost to Ellsworth Community College, 67-65, in Mason City, Iowa. It was Bay's second straight heartbreaker, after losing at home to Wisconsin-Marinette in overtime on Wednesday night.

The Norse led by as many as 14 points in the second half, but made too many mistakes down the stretch, wasting an outstanding effort by 6-foot-9 Kobi Lumsden-Barnes, who scored 18 points and grabbed nine rebounds against some tough men down low.

"He played his tail off," Bay Coach Matt Johnson said. "Eighteen points, nine boards, six-of-ten in about 20 minutes of basketball? That's a heck of an effort for him. He's only gonna continue to get better and better. It's pretty obvious where we need to get the ball. We need to get it there (in the paint) a little more often."

It was a frustrating night, however, for the Norse guards. Sharpshooter Dre Tuominen was just 4-of-14 from the field, and Marcus McKenney, who had a huge second half against Marinette on Wednesday, took just two shots, making one.

The Panthers got two big baskets from 6-foot-9 Australian Tristan Forysythe in the final minute, including a put-back with 28 seconds to play to give Ellsworth its first lead of the night. The Norse had two chances to win it after Forysythe's go-ahead hoop, but two long-range shots fromTuominen missed. And it was heartbreak again.

"This is a tough pill to swallow," Johnson said. "There should be a knot in the stomach of every one of these guys who suited up tonight, because we had more than enough chances to win this basketball game."

"We just didn't make plays down the stretch. We got away from what we were doing to get that lead, and let it slip through our fingers."

The Norse jumped to a 6-1 lead right off the bat, and then steadily built their lead throughout the first half. A Tyler Willette basket and foul off of a nice Jace Briggs feed gave Bay a 28-16 lead with 4:30 to play in the second quarter.

The lead was 33-23 at the half, and then a pair of Willette baskets to start the second half gave Bay a 37-23 cushion. But the Panthers picked up the defensive intensity, and slowly started to get back into the game as 6-5 forward LaVeechie Williams began dominating inside. He had a pair of "and-one's" , the second of which cut the Bay lead to 62-60.

Forysythe tied the game at 64, but the Norse worked it down court and used more than 20 seconds off of the clock. Tuominen got fouled, and made one of two shots to put the Norse back up, 65-64. The Panthers attacked the basket and Forysythe missed in the paint, but got his own rebound and scored a one-hander to make it 66-65.

Tuominen's jumper missed with 6.1 seconds to play, and Tenng Akoi split a pair of foul shots for Ellsworth. That gave Bay one more chance, but Tuominen's desperation heave from just past half court was short, and the Norse fell to 0-2 with another close loss.

Williams had 22 points and 11 rebounds for Ellsworth, and Forysythe added 12.

"I think there was panic in a couple of guys, and selfishness in a couple of guys," Johnson said. "We didn't play the way that we played when we built the lead. We turned the ball over 29 times in the basketball game, and how in the world we even had a chance to even get a win, is beyond me. It's just not good enough."

Tuominen ended up with 12 points and Willette chipped in eleven.

The Norse return to action on Saturday against North Iowa Area Community College. Game time is 6:00 ET/5:00 CT. The game will be broadcast live on WMXG-FM (Maverick 106.3) and on-line at www.radioresultsnetwork.com.

Click the thumbnails to see video clips, listen to radio replays, comments from Coach Matt Johnson and Marcus McKenney's spotlight interview.