FINALLY! Norse Top Alpena For First Victory 87-68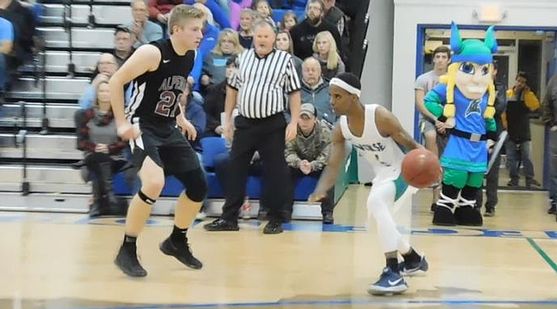 ESCANABA---The Bay College Norse men's basketball team ended its string of heartbreaking losses Wednesday night, turning back Alpena Community College, 87-68, at the Northern Lights YMCA Gym. The win was the first of the season for the Norse, after two overtime losses and another two-point loss on a last-minute basket.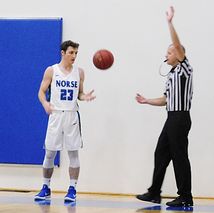 "I knew it was coming, and I knew it was coming sooner rather than later," Bay College Coach Matt Johnson said of getting that first 'W'. "We just finally got to the point where we made plays when we needed to."

"We never took our foot off of the gas petal. As sweet as it is for me, it's sweet for these 14 guys that have been busting their tails the last three months, doing everything we ask of them. Now they're seeing the fruits of their labor."

Four players scored in double figures, led by Escanaba native Tyler Willette, who scored 19 points and grabbed seven rebounds.

Center Kobi Lumsden-Barnes had 14 points and ten boards, while Rasonte Smith also scored 14 points, including two triples.

"Rasonte is someone who we've been waiting for to have a big game," Johnson said. "He's as talented of a kid as we've got. He's really skilled kid, he's athletic, and we're looking for some really big things. I really hope that today is a coming-out party."

Barnes continued to be a surprising bright spot here early in the season.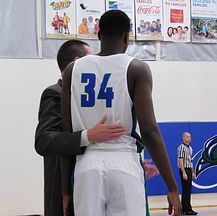 "They didn't have an answer for him," Johnson said. "We got their big guys in foul trouble a little bit. They tried a zone. They tried some other things. Kobi has come along so much quicker than I expected him to. I knew he had the potential to be really, really good, and now I don't think that there's any doubt."

Gladstone native Joe Gibbs scored ten points, including a pair of second half dunks.

The Norse also had plenty of contributions from "role players", as Damian Richmond came off the bench to drain a three-pointer at the first half buzzer, giving Bay a commanding 43-23 lead at halftime. Big man Donate Ellis chipped in six points, and Manistique graduate Darien Nichols added a three-pointer of his own off the bench.

Bay College built a 24-point lead after the second of Gibbs' dunks, but the Lumberjacks rallied to within eleven points with seven minutes left in the game. Johnson reinserted his starters at that point, and the Norse went on cruise control the rest of the way.

Michael Stewart led Alpena (0-2) with 26 points, including four three-point baskets.

The Norse (1-3) are back on the YMCA Court Saturday afternoon against the Mid-Michigan Community College Lakers. Game time is 1:00. It will be broadcast live on WMXG-FM (Maverick 106.3) and at www.radioresultsnetwork.com.

Click the thumbnails in the ARTICLE HIGHLIGHTS box above to see photos, videos, listen to a radio replay of the Play of the Game, and interviews with Alfonzo Fields, Tyler Willette, Rosante Smith, and Coach Matt Johnson.