DOWN TO THE WIRE: Norse Rally Past Fox Valley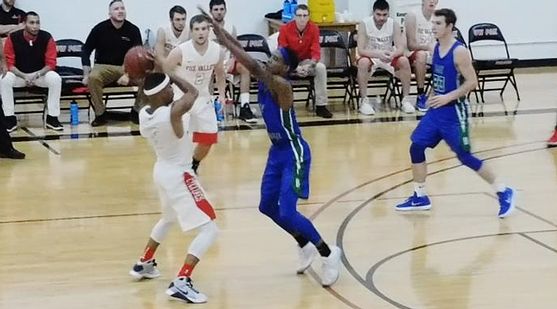 APPLETON---It seems like it wouldn't be a Bay College Norse men's basketball game without it going down to the wire. For the fourth time in six games, a Norse game was decided on a final possession, and this time, the Norse got the victory.

Bay College rallied from ten points down in the final seven minutes to post an 83-82 win over the UW-Fox Valley Cyclones Tuesday night in Appleton. The Norse got a big second half from their guards and then had to hang on in the final seconds to get the win.


The win was the third in a row for the Norse, after they lost their first three games in heartbreaking fashion, with two of those coming in overtime.

The Norse trailed, 72-62, with seven minutes left before Dre Tuominen and Marcus McKenney brought them back. And fellow guard Alfonzo Fields made plays on both ends of the court in key moments as Bay went on a 19-4 run to take an 81-76 lead in the final minute. But in typical Norse fashion, they had to hang on from there as well.

Fox Valley made eleven three-point baskets, including one to with 2:29 left to get to within 81-79. Then after an empty Norse trip, the Cyclones were able to get inside for the tying basket. But they made the mistake of fouling Tuominen, and the Negaunee High School graduate drained a pair of charity shots with exactly one minute left to put the Norse ahead, 83-81.

The Norse played great defense over that final minute, forcing two empty trips by the Cyclones, but Dontae Krizenesky had a chance to tie at the line.

He made just one of two free throws, making it an 83-82 contest.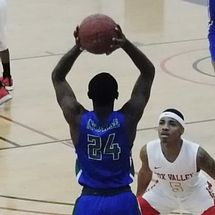 The Norse had a chance to up by three, but Fields missed the front end of a one-and-one. Fields attoned for that miss by hussling back on defense and getting a steal with 1.9 seconds to play.

After Tuominen also missed a foul shot, a Cyclone desperation heave was well short. Fox Valley had run out of time outs and couldn't set up a play.

Tuominen had six points in the first half, but went on a scoring spree in the second half, scoring 20 points, including a pair of triples.

And McKenney, a Menominee native, who has struggled the past four games, was able to get it going in this one. He scored 16 of his 19 points in the second half, and made two three-pointers in clutch moments as the N0rse were making their comeback.

Escanaba High School graduate Tyler Willette had another solid game. He had 13 points and grabbed seven rebounds, and had a big "and one" early in the second half to help jump start the Norse rally. Fields had 14 points; Tuominen led the way with 26.

Fox Valley had five players score in double figures, with Jason Gurholt leading the way with 17, including five three-point baskets.

Bay College (3-3) hosts the Lake Superior State University Junior Lakers next Monday night. The game starts at 7:30 and will be broadcast live on WMXG-FM (Maverick 106.3), and on-line at www.radioresultsnetwork.com.

Click the thumbnails in the ARTICLE HIGHLIGHTS box above to see photos and video highlights, and listen to interviews with McKenney, Tuominen, as well as the player spotlight interview with Garrett Finkbeiner.