Wildcat Women Come Up Short In Minnesota 74-63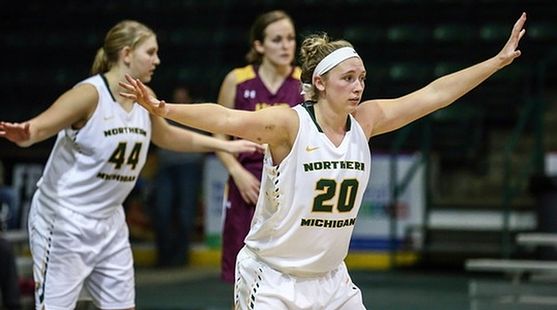 MOORHEAD, Minn.---The Northern Michigan University Women's Basketball Team took on Minnesota State University Moorhead in the team's third game in four days on Sunday, and lost, 74-63.

Leading the Wildcats was junior Darby Youngstrom, who finished with 18 points and five rebounds. Sophomore Jessica Schultz added 14 points and four rebounds while freshman Lexi Smith chipped in with 13 points.

Sophomore Erin Honkala contributed 10 points.



Junior Sydney Dillinger(Houghton, Mich.) finished with seven points and five boards.

The host Dragons started the game with a quick 5-0 lead, but NMU bounced back to narrow the deficit to three at the first media timeout, 9-6.


The Wildcats came out and chipped away at the Dragon lead, eventually using a Smith jumper to tie the game at 14-14 with 52 seconds to go in the first quarter. After hitting two free throws, Moorhead took a 16-14 lead to end the quarter.


In the second quarter, the Wildcats started out cold from the field, and fell behind 22-14 with 5:45 remaining in the quarter. Smith hit a free throw and followed it with a three, but the Dragons responded with five points to take a 29-18 lead at the media timeout with 4:35 to go.

Out of the timeout, NMU went on an 11-4 run, as Schultz and Smith both hit jump shots to make it 29-25. Youngstrom made two layups to close out the quarter, but the hosts made two baskets of their own to take a 33-29 lead into halftime.


The Wildcats would keep the deficit to just four points as the team's traded baskets to begin the third quarter, but the Dragons eventually pulled ahead to close out the quarter, taking a 58-45 lead into the fourth quarter.


The Moorhead lead was pushed out to 16 points with 6:38 to go in the game.

SATURDAY'S NMU GAME: Three players from the Northern Michigan University Women's Basketball Team reached double figures as the Wildcats defeated University of Minnesota-Crookston 73-55 in nonconference action on Saturday.

Junior Jessica Schultz led the way with 19 points and eight rebounds. Junior Darby Youngstrom chipped in with 13 points and went 5-5 from the free throw line. Freshman Lexi Smith aided the win with 10 points.


UP NEXT: NMU travels to another tournament next weekend, in Kentucky. The women play on Saturday and Sunday, and both games will be broadcast live on WUPT-FM (100.3 The Point), and on-line at www.radioresultsnetwork.com.