OVERTIME WINNER: Bay Ladies Slip Past Hibbing

IRONWOOD---The Bay College Norse women's basketball team rallied from an eleven-point deficit and beat Hibbing (Minn.) Community College, 64-60, in overtime on Saturday afternoon at the Lindquist Winter Classic in Ironwood.

The Lady Norse played for the first time in two weeks, after two previous opponents cancelled due to lack of players.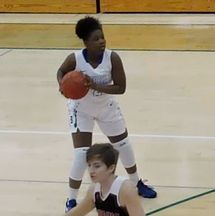 Jordan Kraemer scored 33 points and grabbed 17 rebounds to lead Bay College to the win.

Kraemer keyed a 10-0 run late in the second quarter as the Norse turned a 32-21 deficit into a one-point game at halftime.

The game was tight all the way down the stretch, with Kraemer blocking a three-point attempt and scoring two of her own at the other end to break a 51-51 tie.

But both teams failed on scoring chances in the final seconds of regulation.

Then in overtimes, Kraemer's former Norway High School teammate came up with two big plays. First, Teidra Fuson rebounded a missed three-point shot and put it back to give the Norse a 59-58 lead with 2:08 left in overtime.

Then with the Norse hanging on to a 61-60 lead, the Cardinals were going for the win when Fuson made the steal on the baseline.

Kraemer ended up with the ball, and sank two free throws to make it 63-60.

The Cardinals missed a wide-open triple that would have tied the game, and Caitlyn Hewitt made one of two free throws to put the game away at 64-60.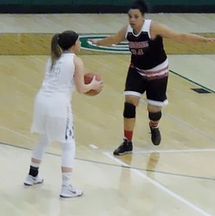 Hewitt had ten points and Fuson added nine to back up Kraemer's 33.

One statistic that pleased Norse Coach Rae Drake, Jr., was the fact that his team battled the Cardinals to a 44-44 draw when it came to rebounds.

On the down side, the Norse were just 1-for-16 from three point land, while the Cardinals sank 8-of-26 from behind the arc. April Hudelson had 13 points and 11 rebounds to lead Hibbing, but the Norse played strong defense on her in overtime.

Bay improved to 3-3 on the season and face a tough challenge on Sunday, taking on Highland (Kansas) Community College, which has not lost a game this season. Highland defeated Gogebic Community College, 119-62, in Saturday's late game in Ironwood.

Sunday's tip-off is set for 11 a.m. ET. The game will br broadcast on WMXG-FM (Maverick 106.3) and on-line at www.radioresultsnetwork.com.

Click the thumbnails in the ARTICLE HIGHLIGHTS box above to see photos, videos, and hear interviews with Kraemer, Fuson, Paige Welch, and Drake.