Eskymo Hockey Drops Season-Opener To Redmen

WELLS---The Escanaba High School hockey team was shut out by the Marquette Redmen, 4-0, in its season-opener Tuesday night in Wells.

Four different Redmen players scored goals as Marquette outshot Escanaba, 30-14.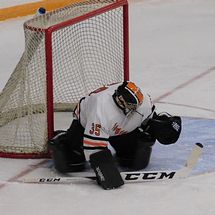 The Eskymos were playing their first game, after having their first three contests postponed because the football team made a run to the state semifinals.

And Escanaba is young this year, with four members of the senior class either moving out of town to play hockey, or choosing not to play hockey at all this winter.

Marquette jumped on the Eskymos early, withy Nick Leafers scorin 1:46 into the game.

The Redmen doubled their lead as Sean O'Connor took advantage of an Eskymo turnover and ripped it past goaltender Brodie Goddard for the goal.

Joe Phillips and Tanner Phillips scored in the second period for Marquette, as the Redmen used their speed to attack the Eskymo zone.

Goddard stopped 26 of 30 shots for the Eskymos.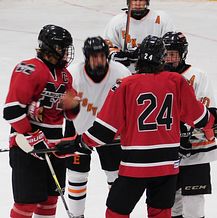 Junior goaltender Tyler Bergwall stopped all 14 shots for Marquette.

The game saw just one penalty called on each team, despite some hard hitting.

Escanaba hosts Gaylord Friday night at 7:00.

The game will be broadcast live on WGKL-FM (Kool 105.5), WCHT-AM (NewsTalk 600), and on-line at www.rrnsports.com.

The Eskymos will then travel to Negaunee for their first road game next Monday night. It will be broadcast on AM-600 and rrnsports.com.

Click the thumbnails in the ARTICLE HIGHLIGHTS box above to see photos, videos taken by Sandi Young. Also click the AUDIO buttons to listen to player spotlight interviews with Brodie Goddard and Aaron Young.