Nationally-Ranked Mott Overwhelms Norse, 80-61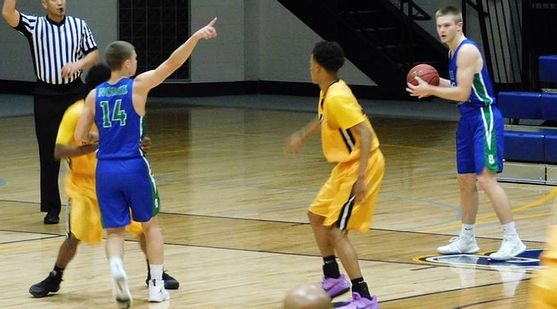 PORT HURON---The Bay College Norse men's basketball team battled the eighth-ranked team in the country Friday night, but lost to the Mott Community College Bears, 80-61, at a tournament in downstate Port Huron.

The Norse trailed by just nine points with eleven minutes left in the game before the Bears pulled away with a mixture of three-point shooting and dominant inside play.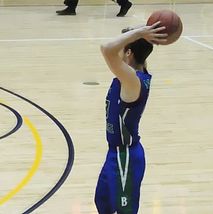 Mott shuffled players in and out of the lineup, and routinely used most of the 30-second shot clock to run its plays.

Marcus Cole led the Bears with 19 points, including three slam dunks. Big guy Henry Speight, who also hit a pair of triples, added 18 points.

Speight's fellow Saginaw High teammate, Eddie Thigpen, added 17 points.

But the Norse hang around all night long, with the guards making enough shots to keep the game within reach.

Negaunee's Dre Tuominen led the way with 20 points, including a deep triple in the first half and seven-of-eight shooting from the foul line.

Menominee graduate Marcus McKenney also made things happen with the pull-up jumper, adding 13 points to the Norse total. The play of the game for Bay came with one second left in the first half when McKenney tossed an out-of-bounds pass to Dontae Ellis, who tipped it in at the horn to bring Bay within 41-30 at halftime.

Rasonte Smith added ten points off the bench for Bay College.

The matchup pitted the first-year Norse program against a Mott program that has won four national championships since 2002. The Bears improved to 5-2 with their fifth straight win. The Norse fell to 6-4, with a six-game winning streak snapped.

Bay College faces St. Clair County Community College Saturday night in Port Huron. Tip-off is 5:00. The game will be broadcast live on WMXG-FM (Maverick 106.3).

Click the thumbnails in the ARTICLE HIGHLIGHTS box above to see photos and videos, and listen to Dontae Ellis's player spotlight interview, and Matt Johnson's post-game comments. Also listen to our interview with Delta County native Duane Englund, who plays baseball for Mott.