ROAD WARRIORS: Norse Women Outlast Alpena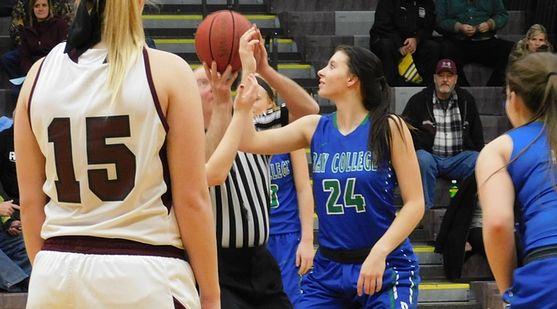 ALPENA---The Bay College Norse women's basketball team picked up a tough road victory Wednesday night, beating the Alpena Community College Lumberjacks, 59-45, in Alpena.

The Norse led from wire-to-wire, but Alpena battled back three times from double digit deficits to force the Bay girls to work for it down the stretch.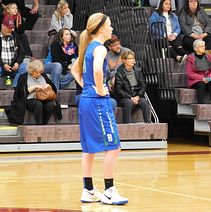 The offenses were a bit stagnant at times in the first half, especially in the second quarter, when each team scored just once in the first five minutes of that quarter.

But Bay was able to keep the Lumberjacks at arms-length, with Justice Kinnunen nailing a couple of three's to take a 29-21 lead into the locker room.

Jordan Kraemer had a basket and foul on a drive to the basket to make it 36-25 in the third quarter, and Caitlyn Hewitt swished a three-pointer off of a Kraemer feed to make it a ten-point game.


The Lumberjacks went on a 9-0 run to start the fourth quarter to close to within 43-41.

But Saige Roberts came off the bench to score off a Kraemer feed, Kinnunen buried another triple, and Hewitt had a basket and foul to help the Norse regain control of the game. Kraemer led the way with 19 points and 15 rebounds.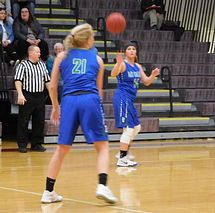 Kinnunen added 15 points and Paige Welch, who scored eight points in the first quarter, added eleven points.

Sam Samanski had 14 points to lead Alpena.

Bay College improved to 5-5 on the season.

The game scheduled for this Saturday against University of Wisconsin-Fond du Lac has been postponed and will be played Jan. 17.

The Lady Norse will be back in action Dec. 15-16 at a tournament in Ironwood.

Click the thumbnails in the ARTICLE HIGHLIGHTS box above to see photos and videos, and listen to interviews with Caitlin Hewitt, Teidra Fuson, and Coach Rae Drake, Jr.