DEFENSIVE WINNER: Norse Shake Off Slow Start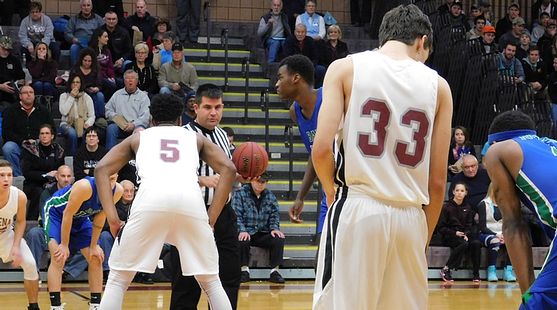 ALPENA---The Bay College Norse men's basketball team fell behind by eight points early in the game but used tough defense to turn the game around and beat the Alpena Community College Lumberjacks, 60-52, Wednesday night in Alpena.

Bay College trailed, 16-8, seven and a half minutes into the game, but did not give up a basket over the next five minutes and took control of the contest.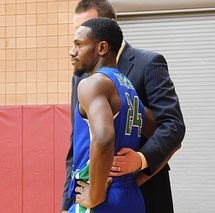 Jameson Perreless nailed three triples early on for the Lumberjacks, but he was held to just one more basket the rest of the way.

Alpena's leading scorer, Michael Stuart, had 26 points the last time these two teams met.

This time he had 21, with nine of those points coming on late three-pointers.

The Norse guards struggled to score points, with Dre Tuominen and Marcus McKenney both scoring eight polints. But their defense was strong against Alpena's weapons.

Escanaba graduate Tyler Willette continued his consistent play, leading the Norse with 13 points, including six in the first half when the Norse had trouble scoring.

Rasonte Smith came off the bench to score a couple of big baskets, including a drive to the hoop with a left-hand finish that put Bay College ahead, 28-19.

The Norse got the guards going early in the second half with McKenney and Alfonzo Fields scoring on back-to-back plays to make it a 41-27 Bay lead.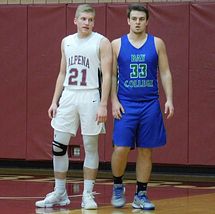 Alpena made nine three-point baskets while Bay made just one (Tuominen).

The Lumberjacks cut the Bay lead to seven in the final minute, but a basket off the bench by Bark River-Harris graduate Jace Briggs was the final nail in the coffin.

Besides Willette's 13 points, Fields scored 12 and 6-10 center Kobi Barnes had 11.

Bay College improved to 7-5 on the season.

The Norse host UW-Fond du Lac on Saturday.

Game time is 3:00. It will be broadcast live on WMXG-FM (Maverick 106.3).

Click the thumbnails in the ARTICLE HIGHLIGHTS box above to see photos, videos, and listen to interviews with Willette, Tuominen, Coach Matt Johnson, and Ishpening's Dondre Yohe, who will play at Bay next year.