STREAK-ENDING 'W': Rockets Topple Jets, 65-43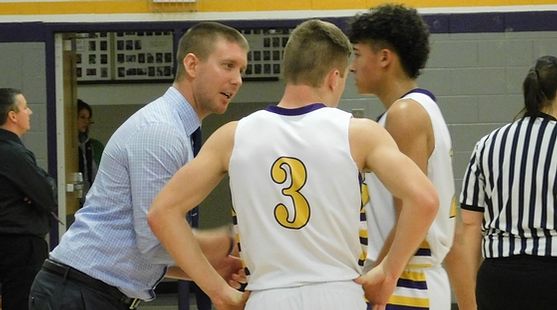 RAPID RIVER---The Rapid River High School basketball team had a big second half and cruised past the North Central Jets, 65-43, Thursday night in Rapid River.

The result ended the three-time defending state champions' national record 84-game winning streak.


The Jets, with no starters back from last year's Class D state champions, led late in the first quarter, 14-9, after a driving layup by Lucas Dombrowski. The momentum changed, however, when Rapid River's Tyler Sundling nailed a three-pointer and was fouled as time expired in the first quarter. It was a rare four-point play.

North Central continued to hang tough after falling behind by nine points in the second quarter, closing to within 29-25 at halftime. But the Rockets dominated the third and fourth quarters, and earned a big home court win before a large crowd.

"Our offensive production, obviously, wasn't very good in the second half," NCA Coach Adam Mercier said. "Our movement got slow. We missed a couple of shots and they got some transition points. We were a little out-sized out there."

"I tried going with a smaller line-up to try to get some speed out there, but Rich (Poma, Rapid River's coach) did a nice job adjusting with some bigger guys. In the second half, Rapid River played very well, and we didn't play well at all."

Rapid River was led by Logan Hardwick's 17 points.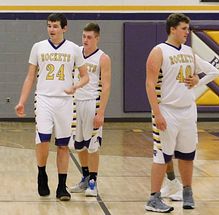 "We shared the ball a lot in the second half," Hardiwck said. "We really got a lot of wide-open back-door cuts and wide-open shots."

Sam Orth added 13 for the Rockets, who also beat Carney-Nadeau on Monday.

And what about being the team to end "the streak"?

"It was just another game," Hardwick said. "That's how we thought about it."

North Central (1-1) was led by Austin Poupore's ten points.

Trenton Schaff added nine and Noah Gorzinski chipped in eight points.

"If you have a five-game winning streak in our conference is good," Mercier said, reflecting on the streak, "so for us to play 84 games and not have a letdown, that says a lot about all of the kids we've had in the past. And it says a lot about these kids, these seniors, who really helped us last year through the season."

Click the thumbnails in the ARTICLE HIGHLIGHTS box above to see photos, watch videos, and listen to interviews with Hardwick and Mercier.