NCA Defense Stymies Wolves In Second Half, 71-49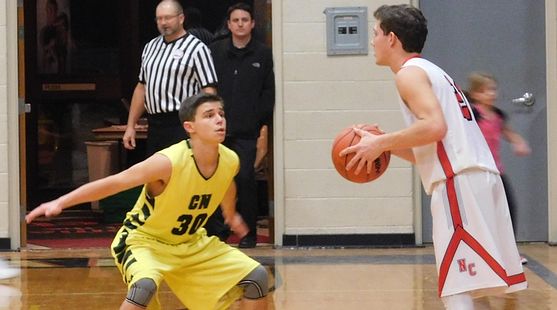 POWERS---The North Central High School boys basketball team responded to the end of its 85-game winning streak with a resounding victory over its biggest rivals.

The Jets used a suffocating defense to shut down the Carney-Nadeau Wolves in the third quarter and cruised to a 71-49 victory Thursday night in Powers.

The three-time defending state champions lost to Rapid River last week, but got to work on a new streak Thursday against a Carney team that's well-known for its ability to make the three-point basket. And to make them in bunches, from all over the court.


But on this night, the outside shot wasn't there for the Wolves, especially in the third quarter, when Carney-Nadeau managed only one basket and was outscored, 19-2.

Bef0re that tough third quarter, the Wolves were still in the game, trailing, 31-26, at halftime.

But things got progressively more frustrating for the Wolves after the break, with Coach Jake Polfus getting a technical foul, and the Wolves getting another "T" for smacking the backboard on a made shot by the Jets' Trenton Schaff.

The Wolves have eight players on the varsity roster, and three of them fouled out: Chase Linder, Brett LaFord, and Jordan Janofski.

North Central was led by sophomore Noah Gorzinski's 19 points, and senior Lucas Dombrowski added 16. Schaff, another senior, chipped in 11 points.

Carney-Nadeau got 15 points from senior Jason Kirschner.

NCA hosts Menominee in another in-county battle Tuesday night. The Wolves are off until after Christmas, when they host Golda Meier out of Wisconsin on Dec. 29.

Click the thumbnails in the ARTICLE HIGHLIGHTS box above to see photos and video highlights from Thursday night's game.