Bay Norse Women Cruise Past Western Tech, 63-40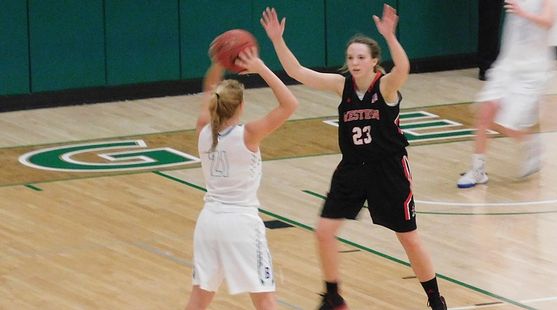 IRONWOOD---The Bay College women's basketball team led for most of the game on Friday, beating Western Tech (Wis.) College, 63-40, at the Gogebic Winter Classic in Ironwood. The Norse played for the first time in nine days, and played its third game on the Gogebic Community College campus this season, and stayed unbeaten here.

The Norse led, 15-11, after the first quarter as Paige Welch and Jordan Kraemer each scored a pair of baskets. Bay then outscored the Cavaliers, 18-8, in the second quarter to take a 33-19 lead at halftime. Kraemer had eight points in that quarter.


The Cavaliers (1-9) closed the gap to single digits in the third quarter, but the Norse put the game away by putting 20 points on the board in the fourth quarter.

Kraemer led the Norse with 28 points and ten rebounds. Welch had twelve points, including a pair of triples in the fourth quarter. Teidra Fuson added eight points.

Kerrigan Lyga led Western Tech with 14 points.

Bay College improved to 6-5 on the season. The women will take on Silver Lake (Wis.) College Saturday morning. Game time is 11:00 ET/10:00 CT. The game will be broadcast live on WMXG-FM (Maverick 106.3), and at radioresultsnetwork.com.

Click the thumbnails in the ARTICLE HIGHLIGHTS box above to see photos and videos, and listen to interviews with Kraemer and Coach Rae Drake. Also, listen to Justice Kinnunen's player spotlight interview, and an interview with Bay College recruits Taylor Hunter and Kaitlyn Hardwick.