Esky Wins First Delta County Battle In Gladstone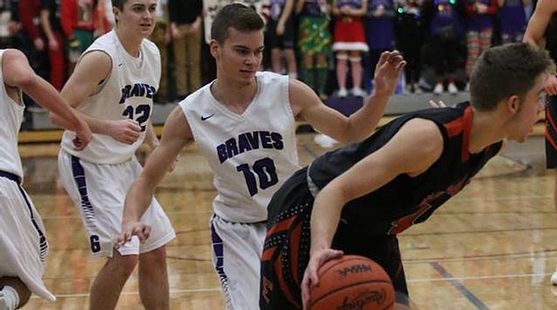 GLADSTONE---Advantage, Eskymos.

The Escanaba Eskymos won the first of what will be three battles with the Gladstone Braves this season on Friday, posting a 75-57 win at the Gladstone High School Gym.

The Eskymos jumped to a 39-25 halftime lead, highlighted by a shot from nearly half-court by Ryan Robinette that banked its way into the hoop.

Gladstone rallied to within five, 50-45, going to the fourth quarter, but the Braves never could get over the hump against Coach Tracy Hudson's 1-3-1 zone defense.

The Eskymos had five players score in double figures, led by Robinette's 25 points. Peyton Fedell had 12 points, while Jared Nash, Craig Kamin, and Austin Willette all scored 11.

Gladstone got 22 points from Brad Spindler. Reece Castor added 15 points and Rudy Peterson chipped in with 12.

The two teams will meet again in Escanaba on Feb. 23, and then will face off in the Class B district tournament, also in Escanaba, in early March.

Next Tuesday, the Braves host Iron Mountain and the Eskymos host Marquette. The Gladstone-Iron Mountain game can be heard live on WCHT-AM (NewsTalk 600), and over the Internet at www.rrnsports.com.