WAKE UP CALL: Bay Rally Overwhelms Silver Lake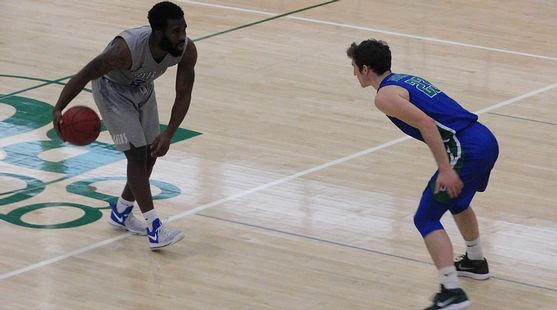 IRONWOOD---The Bay College men's basketball team completed a sweep for the Gogebic Winter Classic in Ironwood on Saturday, but it wasn't easy.

The Norse fell behind Silver Lake College (Wis.) by 15 points before storming back to post a 78-59 victory.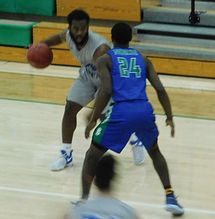 The result gave the Norse a 10-5 record heading into a two-week Christmas break, after the team started the season with an 0-3 record on three close losses.

Silver Lake, a four-year college from Manitowoc, featured players with much more experience than the first-year Norse players.

And the Lakers were good early on as Freddy Cook, a transfer from St. Clair County Community College, nailed four triples and scored 14 points in the first ten minutes of the game. The Lakers raced to a 29-14 lead.

But Norse Coach Matt Johnson gave his team a verbal tongue-lashing during a time out, unhappy with what he described as "embarrassing" and "uninterested" play. It worked, as the Norse came back onto the court with a new fire and intensity.

Bay College finished the first half by outscoring the Lakers, 19-7, to close to within 36-33 heading into the locker room. And the second half was all Norse.

Big man Dontae Ellis came off the bench to provide a boost with two baskets, and fellow post-players Tyler Willette and Kobi Barnes were more assertive in the paint.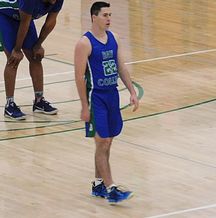 A three-pointer by Dre Tuominen gave the Norse their first lead at 38-37. After a great defensive stand, Marcus McKenney drained a triple.

Then the pressure defense forced a turnover and Kobi Barnes made a nice move on the baseline for a bucket.

The game got rough moments later when McKenney was fouled by Silver Lake's Taylor Harper. It was Harper's fourth foul, and he didn't like what McKenney had to say, and fired the ball into McKenney's body. That set off a scramble of players that, fortunately, was broken up quickly.

Technical fouls were handed out, and Harper fouled out.

McKenney went to the line and swished four straight free throws, and it was 49-37. The Norse completed a 17-0 run with two Barnes free throws, and then Rosante Smith came off the bench for a triple and a driving layup, making it a 59-40 game.

The Norse had five men in double figures, one day after having six men in double figures against Western Tech (see story on that game under "related stories").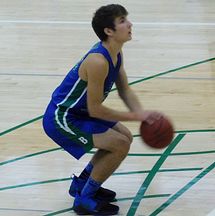 On Saturday, Tuominen led the way with 14 points. Willette had 12 points and 11 rebounds, and on defense, he held Cook to zero points after Cook's hot start. Barnes, McKenney, and Ellis all added eleven points for Bay College.

The Norse are off for the Christmas break, and return to action at home on Dec. 29-30 when it hosts the Quality Inn & Suites tournament.

Bay will face Alpena Community College in the Friday contest, and Milwaukee Area Technical College the next day. Gogebic Community College will also come to town to face those teams.

Click the thumbnails in the ARTICLE HIGHLIGHTS box above to see photos and videos, and hear comments from Ellis and Coach Johnson.