HOME AWAY FROM HOME: Bay Ladies Hang On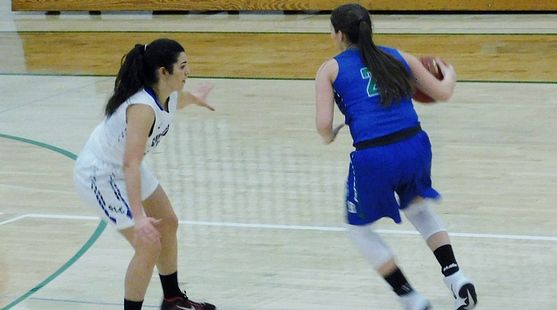 IRONWOOD---Bay College has a west campus in Iron Mountain, but the college's women's basketball team is making itself at home in the very far western U.P.

The Norse raced to a 23-point lead and held on Saturday to beat Silver Lake College (Wis.), 56-49, at the Gogebic Winter Classic in Ironwood.


It was the fourth game that the girls have played on that Gogebic College court, compared to just three games on their home court in Escanaba.

On Saturday, the Norse jumped to a 20-8 lead after the first quarter as Jordan Kraemer went off for nine points and fellow Norway graduate Teidra Fuson hit three baskets from in close.

And Bay expanded its lead to 36-19 at halftime as Kraemer scored nine more points, Caitlin Hewitt nailed a triple, and Paige Welch scored twice.

The lead swelled to 48-25 late in the third quarter after Justice Kinnunen hit a triple, but the Lakers finished the third quarter on an 8-0 run to close to within 48-33.

The Norse scoring drought continued in the fourth quarter as the girls went ice cold from the field. Hewitt hit another three for Bay's only fourth quarter basket to make it 51-39, but Silver Lake's Danielle Byrum got hot, sinking a trio of three-point baskets in the dourth quarter, closing to within 52-46 with 1:18 left in the game.

The Lakers (5-6) had several chances to get closer, but couldn't make the shots and the Norse finished it off with a few free throws in the final minute.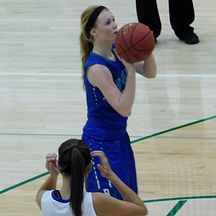 Kraemer led all scorers with 22 points, and she was credited with eleven rebounds for another "double double". Fuson had ten points, Kinnunen nine, Welch eight, and Hewitt seven. Tasha Rabe led the Lakers with 16 points and nine rebounds.

Bay College (7-5) has had three games cancelled or postponed this season, but the girls will be home on Dec. 29-30 for the Quality Inn & Suites tournament at the Northern Lights YMCA Gym.

The Norse will face Alpena Community College for the third time this season on the 29th at 6:00, and will play Miwaukee Area Technical College on the 30th, also at 6:00.

Gogebic Community College will also be in Escanaba to face those teams.

Click the thumbnails in the ARTICLE HIGHLIGHTS box above to see photos, videos, and listen to comments from Coach Rae Drake, plus hear from Norse recruit JuliAnn Wickman of North Dickinson High School.