Norse Rally Falls Short In 69-60 Loss To Marathon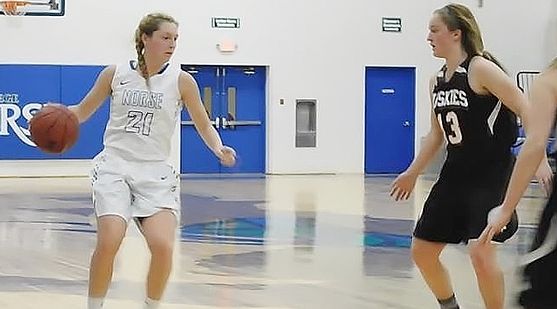 ESCANABA---The Bay College women's basketball team fell behind by 18 points in the first half and lost to the University of Wisconsin-Marathon Huskies, 69-60, Monday night at the Northern Lights YMCA Gym in Escanaba.

The Huskies stayed undefeated (8-0) as Morgan Rachu, who's averaging 29 points per game, scored 31 points. And she did it from both inside and outside.


Rachu also held Bay's leading scorer, Jordan Kraemer, to well below her scoring average. Kraemer scored three hoops in the first quarter while driving to the basket, but ended up with a total of 12 points. Kraemer had just one basket in the second half.

After the Norse trailed, 44-26, at halftime, the tide started to turn after Justice Kinnunen took a hard charge as Rachu drove to the basket.

Kinnunen banged her head off the floor, and did not return to the line-up. But the Bay girls rallied after that play.

Jordan Belleville got hot from behind the three-point line, burying five triples in the second half. Her last three pulled the Norse to within 61-55 with five minutes left in the fourth quarter. But Amber Krause answered with a jump shot, and after an empty trip for the Norse, Rachu rebounded a missed free throw, pivoted, and scored in the lane.

That made it a 66-55 game. Paige Welch pulled the Norse to within 66-60 with her third three-pointer of the game, but Bay could get no closer and fell to 8-8 on the season.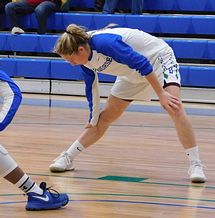 Belleville led the Norse with 17 points, while Kraemer had 12 and Welch added 11. Besides Rachu's 31 points, Jayci Blume scored 12 points and Krause added ten.

The two teams will meet again in Wausau on Jan. 20.

Before then, the Norse continue their homestand this Saturday against Finlandia University.

Game time is 1:00. It will be broadcast live on WMXG-FM (Maverick 106.3), and on-line at www.radioresultsnetwork.com.

Click the thumbnails in the ARTICLE HIGHLIGHTS box above to see photos, video highlights taken by Nate Bellville. Also, click the AUDIO buttons to hear Welch's halftime interview, and Coach Rae Drake, Jr., comments.