MERCY: Calumet Power Play Overwhelms Eskymos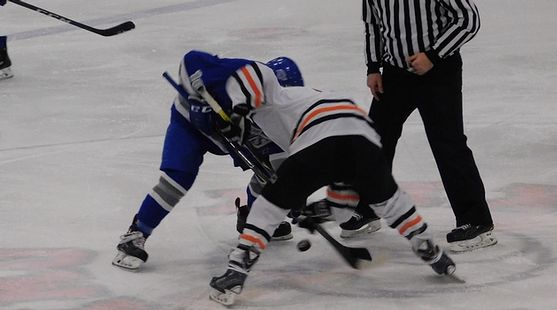 WELLS---For a while there, it was rocking inside the Hannahville Ice & Turf in Wells.

The Escanaba Eskymos got goals from Joey Jacobson and Brayden Stannard in the first four minutes of the game, and the Eskymos led the Calumet Copper Kings, 2-0.

But it went downhill from there for the Eskymos as the Copper Kings scored ten straight goals, six of them on the power play, to leave Escanaba with a 10-2 victory.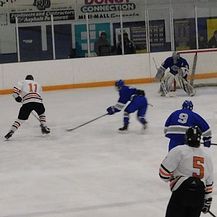 The game was called on the mercy rule with more than 11:00 left in the third period.

The Copper Kings got their first power play when Hayden Haslow went off for interference, as he took a penalty to stop a potential goal from being scored. Calumet scored seconds later, though, as Scott Loukas roofed a shot under the crossbar.

Calumet kept the pressure on, and Dean Loukas tipped one home moments later.

Then Jacobson was called for tripping, and the Copper Kings scored right off of the faceoff as Tanner Rowe tallied.

All of a sudden, the Eskymo lead was gone.

And things got worse. Much worse.

Aaron Young was called for a five-minute major penalty for checking from behind, right next to the Calumet bench. And the Copper Kings took advantage of the fact that on a major penalty, the power play continues even after a goal is scored.


First, it was Davin Lehto. Then 29 seconds later, Gabe Coppo. Then, 28 more seconds later, it was Lehto again. It was 6-2 Copper Kings as the period ended.

That 5:00 power play, however, didn't end, as it carried over into the second period. And the Kings got their fourth goal on that power play as Dean Loukas scored.

Before the period was over, Brent Loukus joined the fun with a 5-on-5 goal.

The Eskymos got a power play early in the third period, but the Copper Kings scored a shorthanded goal as Sam Erkkila ripped one under the crossbar to make it 9-2.

He had five assists to go along with that goal. Then the Copper Kings completed the rout with a bad-angle goal by Brent Loukus at the 5:39 mark. Game over.

Alex Mattila had three assists for a playmaker of his own.

Calumet improved to 6-9-1 on the season. Escanaba fell to 4-7-0.

The Eskymos travel to Hancock next Thursday. The game starts at 7:00, and will be broadcast live on WCHT-AM (NewsTalk 600), and on-line at www.rrnsports.com.

Click the thumbnails in the ARTICLE HIGHLIGHTS box above to see photos taken by Sandi Young, and hear Joey Jacobson's interview.