Gladstone 'Big Three' Has Big 2nd Half In Escanaba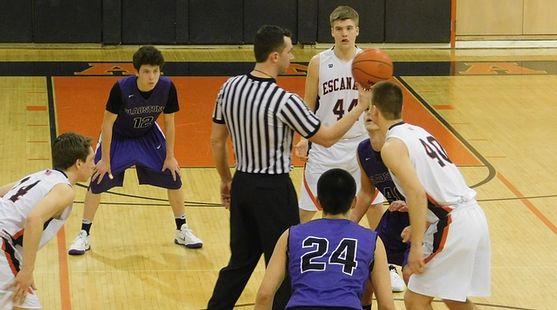 ESCANABA---In Michigan, the "Big Three" often refers to the Detroit automakers Ford, General Motors, and Chrysler. But in Upper Peninsula high school basketball, the term is starting to apply to three members of the Gladstone Braves basketball team.

Reece Castor, Brad Spindler, and Rudy Peterson are expected to score a lot, and on Friday, they did just that as the Braves upended the Escanaba Eskymos, 78-66, to claim a share of the Great Northern Conference championship. Marquette also shares the title.

Spindler led the way with 25 points, including eleven points during a fourth quarter burst where he dominated the paint. And he capped his night with a long triple.

Castor, playing the entire second half with three fouls, added 21 points, and he was crafty with his passing and was strong on the glass. Peterson, meanwhile, dd his best work from behind the three-point line. He buried six triples and finished with 20 points.

Gladstone also got a boost from Braeden Lamberg, who came in off the bench to guard Escanaba's top player, Ryan Robinette. Robinette had eleven points in the first quarter as the Eskymos took a 21-16 lead, but Lamberg held him to eight the rest of the game.

Robinette did what he usually does against Gladstone, however, nailing an extremely long three-pointer to end the first quarter. He had an even longer triple against Gladstone in the first meeting, which the Eskymos won by 18 points back in December.

Escanaba did its best work inside, with Jared Nash scoring 19 points and freshman Carter Hudson coming off the bench to score 13 points. Austin Willette also worked hard inside, and became the fourth Eskymo to score in double figures with 11 points.

Escanaba won the junior varsity game, 63-58.

The Eskymos (14-5) close out the regular season with a home game next Thursday night against Ishpeming. The Braves (13-5) finish on Tuesday against Manistique.

Then the two teams will meet again in the first round of the Class B district tournament in Escanaba on March 5th.

Click the thumbnails in the ARTICLE HIGHLIGHTS box above to see video highlights and hear post-game comments from Peterson and Lamberg. Also listen to a few radio highlights from Friday's broadcast.