OH, SO CLOSE! Eskymo Upset Bid Comes Up Short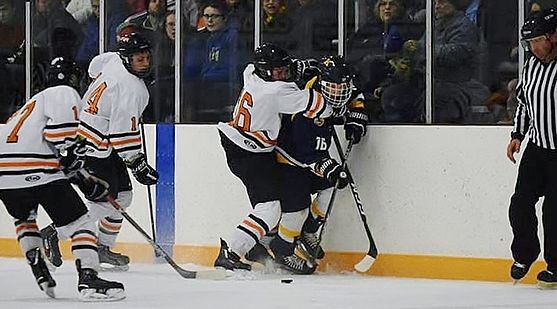 WELLS---The last time the Escanaba High School hockey team faced the Kingsford Flivvers at the Wells Sports Complex, it was nit a fun evening for the home team.

The Eskymos were humiliated by the eight-goal mercy rule, then Coach Matt Hughes had his team do a "bag skate" after the game, similiar to what USA Hockey Coach Herb Brooks had his team do after an uninspiring performance in the 1980 Olympics.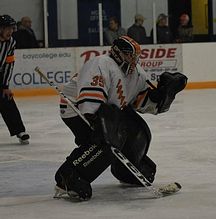 Hughes did not have to deal with a lack of effort Thursday night as the two teams played in the MHSAA Division Two regional semifinals. The Eskymos turned in their best game of the season, but lost a heartbreaker to the Flivvers, 3-2.

The Flivvers advance to the regional championship game on Saturday against Traverse City Central in St. Ignace. Game time is 2:00 ET.

On Thursday, the Eskymos played a spirited game against a Flivver team coming off of an emotional overtime win over Marquette in the regional quarterfinals.

The Flivvers got the only goal of the first period as Dempsey Lauridson shot one from the left point, beating a screened out Eskymo goaltender Brodie Goddard.

Early in the second period, the Eskymos got a power play, and took advantage, as Joe Jacobson rifled one home under the cross bar, with Brayden Stannard and Hayden Haslow assisting. The tying goal electrified the big Eskymo crowd.

Then the Eskymos got life in the second period from Goddard, who made a series of saves that included two poke-checks.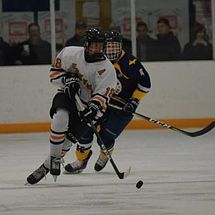 Then Escanaba got another power play, and with 16 seconds left, Haslow's shot bounced off of Blaine Reinhart's shoulder and into the net, giving the Eskymos an improbable 2-1 lead entering the third period.

The Eskymos had a couple of big chances early in the third period, but Kingsford goaltender Evan Hedtke held the fort. Then in the middle of the period, the Eskymos were shorthanded, but Goddard and the penalty killers killed it off.

With seven minutes left on the clock, the Eskymos were closing in on a big upset.

But the Flivvers (18-7-1) are used to playing in close games.

And the Eskymos (8-18-0), who made very few mistakes all night long, made one that ended up with Kingsford scoring the tying goal. Daunte Fortner got the puck behind the Eskymo net and fed a pretty pass to his little brother Reece, in between the circles, and he fired it past a helpless Goddard. Defense mistake made it a 2-2 tie.

Then, less than a minute later, the Flivvers won a face-off and Daunte Fortner made no mistake, shooting it through Goddard's "five-hole" to give Kingsford the lead.

Escanaba had one last chance in the final two minutes when Fortner took a head-contact penalty, but the Eskymos could not generate much pressure, and the Flivvers escaped.

Kingsford outshot Escanaba, 38-18.

Click the thumbnails in the ARTICLE HIGHLIGHTS box above to see photos taken by Anne Truitt, videos taken by Sandi Young, listen to replays from the radio broadcast, and interviews with Goddard and Aaron Young.

---MORE---