MOVING ON: Castor Powers Braves Past Eskymos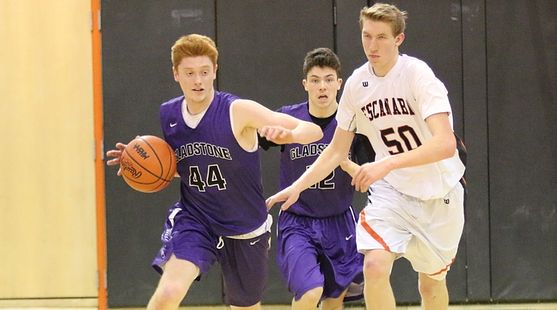 ESCANABA---For a while there, it looked like the young Escanaba High School boys basketball team would get the upper hand on the Gladstone Braves.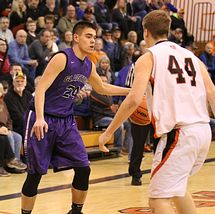 As Gladstone Coach Dane Quigley put it before the game, he knew that longtime Escanaba Coach Tracy Hudson would pull something out new after the two teams split their regular season games.

He just didn't know what.

And it took a while for the Braves to figure it out, as the Eskymos took a 19-9 lead in the first quarter, and led, 27-19 in the second quarter.

But then, Reece Castor figured it out.

The junior point guard scored 13 points during a dominating second quarter comeback, and went on to sore 31 points as the Braves posted an 81-72 victory a the Escanaba Gym.

The final score, as it turns out, is deceiving, as the Braves rolled to leads as great as 19 points in the fourth quarter before the Eskymos made a late charge behind ther only senior starter, Ryan Robinette. Robinette finished his final game with 21 points.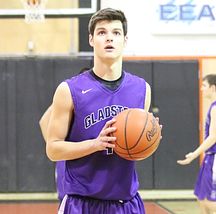 Escanaba had early success inside the paint as Jared Nash scored 14 points in the first quarter, including a triple from behind the long arch.

But Gladstone senior Jared Ness scored seven points, including a three of his own, to close the gap to 23-19.

Austin Willette scored a basket inside, but picked up his third foul, and even though the Eskymos had the 27-19 lead, Castor had a field day the rest of the half.

Rudy Peterson, who nailed the Eskymos for six triples in a game ten days ago, bombed away in the third quarter on Monday. He swished three three's, including a very long triple on the final play of the third quarter that made it a 61-48 game.

That shot, along with a triple from Brad Spindler seconds before, were crippling blows for the Eskymos, who finished their season with a 14-7 record. Nash ended up with a career-high 31 points to match Castor, and Robinette had 21. Willette had 11.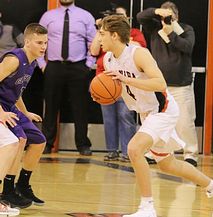 The Eskymos' 72 points is enough to win many games, but not on a night where the Braves (15-5) had four players reach double figures.

Besides Castor's 31 points, Peterson had 17. Ness and Spindler each scored 12.

Braeden Lamberg played strong defense against Robinette for a second straight game, holding Robinette to ten points in the middle quarters.

Lamberg, to top it off, scored nine points.

Gladstone will travel to Kingsford for the Class B district semifinals on Wednesday. Game time is 7:00 ET. It will be broadcast live on WMXG-FM (Maverick 106.3).

Click the thumbnails in the ARTICLE HIGHLIGHTS box above to see photos taken by Brenda Crow, videos taken by Nate Belleville, and listen to radio replays, plus interviews with Ness, Castor, and both coaches.