Huge Second Half Sends Boyne City Past Gladstone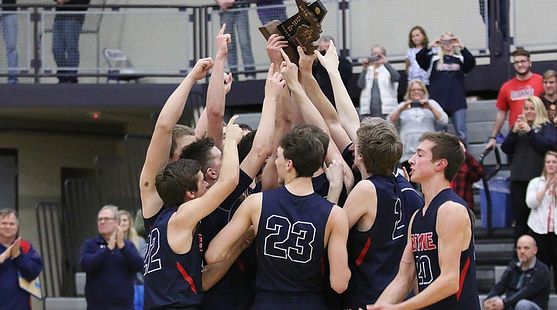 GLADSTONE---The Gladstone High School boys basketball team had a seven-point halftime lead, but the Boyne City Ramblers rallied to post a 76-66 win over the Braves in the Class B district championship game Friday night in Gladstone.

The Ramblers had five players score in double figures, and they dominated on the offensive glass, especially in the fourth quarter.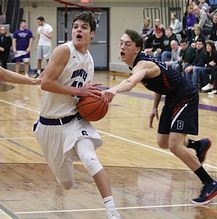 The Braves also hurt themselves by making just 13 of 23 free throws, including four misses by the usually-reliable Reece Castor.

Every time the Braves made a run and got their near-capacity crowd going, the Ramblers had the answer.

After Castor penetrated and scored his third basket of the first quarter, Dillon Sulak launched one from almost half-court to beat the buzzer.

That gave Boyne City an 18-17 lead, but the second quarter belonged to the Braves.

Rudy Peterson nailed four triples, and then Peterson made two free throws when a Rambler player lost his composure and shoved him in the back for an intentional foul.

But Boyne City Coach Nick Redman regrouped his team in the locker room, and the third quarter was dominated withy put-back after put-back inside the paint. Mason Gardner had four baskets in the quarter, Sulak had two hoops, and Eric Carson buried a triple.

Boyne City led 48-47 entering the fourth quarter, and the Braves could not get the big basket (or rebound) to stem the tide. Castor missed two straight free throws on two occassions, and both times, the Ramblers foillowed with a basket at the other end.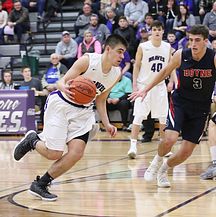 Spindler had a nice drive to the basket for a bank-shot with three minutes to play, and Castor did the same moments later, but the Braves could not get the defensive stop.

Sulak had 21 points and Gardner added 17 for the Ramblers (17-6). Dylon Williams had 12 points, including eight in the fourth quarter.

Max Vondera had 13 points.

For Gladstone, the season ends with a 16-7 record. Castor led the way with 25 points. Peterson had 17, and Spindler added 14.

Click the thumbnails in the ARTICLE HIGHLIGHTS box above to see photos taken by Brenda Crow as well as video highlights.