SHOCK THE WORLD: Wolves Knock Off Panthers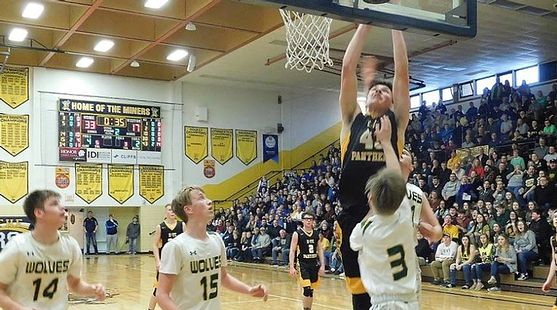 NEGAUNEE---Last week's district championship win over the defending state champion North Central Jets was emotional for the Carney-Nadeau Wolves.

Well, Monday night in Negaunee, the emotions were running high again as the Wolves went up against the state's fifth-ranked Class D team, the Ewen-Trout Creek Panthers.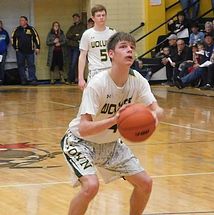 The Wolves used strong defense and balanced scoring to knock off the once-beaten Panthers, 51-45, in the Class D regional semifinals at Negaunee High School.

Carney-Nadeau raced to a big lead early on and held off a late Ewen charge to advance to the regional championship game Wednesday night against Dollar Bay.

The Wolves had to account for Panthers big man Jake Witt, who will play next year at Michigan Tech University. And Witt was his usual strong presence, scoring 27 points and grabbing 23 rebounds.

But Carney's defense made him work for those points.

Carney jumped to an 18-6 lead after one quarter as Brett LaFord scored eight points, and then in the second quarter, Jason Kirschner gave the Wolves a boost with two triples and a total of eight points. The Wolves led, 33-21, at halftime.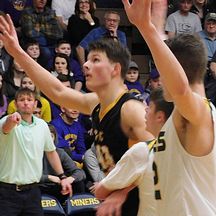 Carney's lead grew to 43-27 as Preston Lauscher banked home a long three-pointer to end the third quarter. But the Panthers had a big run in them over the final eight minutes, closing to within 49-45 before Jake Kleiman sealed it with two foul shots.

Lauscher led the Wolves with 17 points, while Kirschner added 13 and LaFord chipped in with ten. The Wolves improved to 16-7 on the season, and will face undefeated Dollar Bay Wednesday night at 6CT/7ET in Negaunee.

The game will be broadcast live on FM-107.3.

Click the thumbnails in the ARTICLE HIGHLIGHTS box above to see photos and videos. Also click the AUDIO buttons above hear post-game interviews with Lauscher, Kirschner, and Wolves Coach Jake Polfus.