OH, SO CLOSE: Rockets Nearly Topple Dollar Bay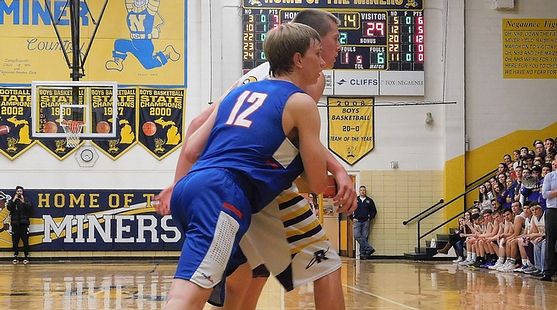 NEGAUNEE---The Rapid River High School boys basketball team came from behind several times Monday night against the undefeated Dollar Bay Blue Bolts, but lost in the closing seconds, 63-60, in the Class D regional semifinals in Negaunee.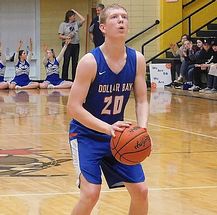 The Blue Bolts (23-0) are ranked #1 in the Upper Peninsula, and #2 in all of the State of Michigan, and they showed it in the first quarter. They took it to the Rockets, grabbing a 22-12 lead after the first eight minutes. Rapid River, though, battled back.

In the second quarter, the Rockets made a run and closed to within 29-26 at halftime.

Dollar Bay's top player, Devin Schmitz, led his team to what looked like a knockout punch in the third quarter, leading an 8-0 run that put the Bolts ahead, 48-35.

But senior Jarrett LaCasse came off the bench and knocked down back-to-back triples in the fourth quarter, bringing the Rockets to within 50-48 with 4:00 to play.

Rockets Coach Richard Poma switched to a zone defense, and that seemed to give the Blue Bolts some problems. But every time the Rockets made a push, Dollar Bay had an answer. And so the game came down to the final 90 seconds.

Rockets senior Lucas Sundling sank a three-point basket from the right wing with 1:20 left to give Rapid River its first lead of the night, 58-57.


Dollar Bay had the answer, as Jaden Janke drove inside and scored with 30.3 seconds left, and then after the Rockets missed, the Bolts scored again, taking a 61-58 lead.

Rapid River senior Cameron Willemsen came back with a driving layup, and he was fouled on the play. That gave him a chance to tie the game with 21.9 seconds left, but Williemsen missed the free throw. The Bolts got the rebound, and the Rockets had to foul Brendan LeClaire to stop the clock.

LeClaire made both free throws. Rapid River had one last chance to hit a triple and force overtime, but Sundling's shot with one second to play misfired, and Dollar Bay survived by three points, advancing to the regional final.

Schmitz led the Bolts with 26 points. Brandon Thompson and Jacob Iacono each added ten. The Rockets got 21 points from Sundling, with Logan Hardwick adding nine.

Click the thumbnails in the ARTICLE HIGHLIGHTS box above to see photos, videos from the game. Also, click the AUDIO buttons to hear post-game interviews with Poma and Sundling.