Mercier Stepping Down As NCA's Basketball Coach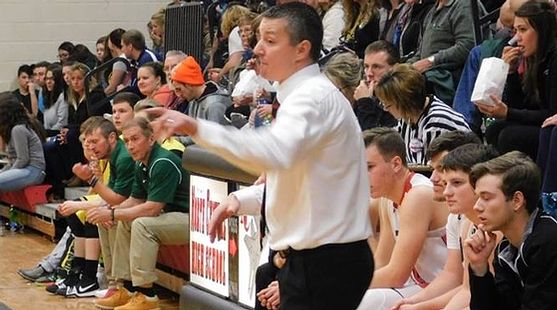 SPALDING---Adam Mercier will not be back for another season as the head varsity basketball coach at North Central High School.

In a Facebook post on Thursday, Mercier said that it was a "difficult decision" but "now is the time" for him to step down.

Mercier thanked his players, past and present, among other supporters. Mercier added that he is "choosing to become a full time husband, father, and teacher.

He led the Jets to three straight Class D state championships in 2015, 2016, and 2017.

This season's Jets team went 17-5, without a returning starter from last year, losing in teh district championship game. Mercier was with the Jets for 13-plus seasons.

The following is Coach Mercier's Facebook message, in which he explained his decision and thanked the people who helped him over the years.

I want to get this out before the rumor mill starts churning.

Over the past few weeks, my wife and I have had discussions about my intentions to coach varsity basketball next year.

As some people fail to realize or know, this decision isn't solely based on "wanting to coach kids", it is so much more than that if you do it the right way.

After much thought and difficult choices, I have made the decision to step away from coaching high school basketball. The decision is not an easy one, and one that of course comes with doubt and hesitation. But they say when your time comes to close one chapter and possibly open up a different one appears, you feel it.

Many factors led to my decision, many some will agree with, many some will disagree with. Eventually I knew the day would come, but always wanted to control how I leave a position I've put my heart into for 13+ years. Now is the time.

I have seen coaches leave FAR too many times with no control over how they "leave" a thankless job in which they get paid minimal money to complete professional tasks.

Before that time comes for me and my family, I am choosing to become a full time husband, father, and teacher.

To the hundred of players I have coached over the years, thank you. A facebook post is not going to put in words how much these young men have influenced my family and I over these years. To my past and current parents of these players, thank you for trusting me and allowing me to do my job to the fullest of my abilities.

Too many people to thank in a facebook post, but time will allow me to hopefully thank everyone. To channel my inner-Mr. Root, a few weeks ago I caught a brief part of the movie "The Outsiders".

Those of you familiar to this movie will understand this next poem by Robert Frost.

"Nothing Golden Will Stay".
Nature's first green is gold,
Her hardest hue to hold.
Her early leaf's a flower,
But only for an hour.
Then leaf subsides to leaf.
So Eden sank to grief,
So dawn goes down to day.
Nothing gold can stay.

Thank you for the memories. Here is to many more.