HARRIS---
Bark River-Harris High School senior Ryan Arndt officially signed Thursday afternoon to attend Bay College and play basketball next year for the Norse.
Arndt was a first team Class D All-U.P. selection, averaging 17.6 points and 5.7 rebounds for the Broncos in his senior season. He joins fellow first-teamers Ryan Robinette of Escanaba and Cade Contreras of Munising in the Norse recruiting class. Also coming to Bay next year are Ishpeming's Dondre Yohe and Rapid River's Logan Hardwick.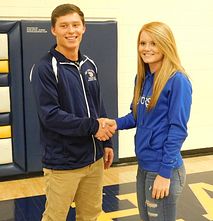 "Bay College is nice because it's close to home, and you can never go wrong with being with your family," Arndt said of his decision. "I played some basketball with Coach Johnson last summer. He coached our AAU team and we went all over the place, all over the Midwest, and he's just a great coach. He brings it, every single day."
"He's the epitome of what a student athlete should be," Johnson said. "He adds something to the table in an area where I think we need to improve. We need to get bigger and stronger and more athletic at our wing spots. Ryan's a tough match-up."