Charette, Lauscher Buzzer-Beaters Lift Carney In 'D'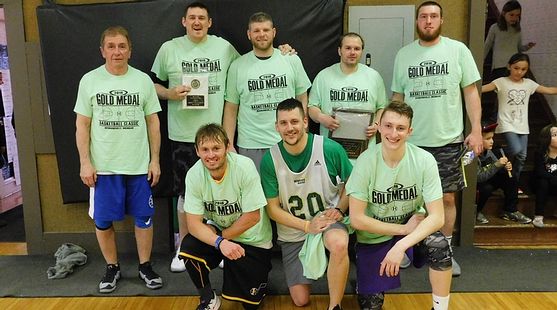 HERMANSVILLE---Carney Juice Promotions won the Class D championship in thrilling fashion Saturday at the Gold Medal Classic basketball tournament in Hermansville.

Preston Lauscher's buzzer-beating put-back sent the game into overtime, and then Marvin Charette, Jr., flung home the winner at the OT buzzer as Juice Promotions stunned Escanaba Spindler Financial, 95-92.

The win came less than 24 hours after Jake Polfus won the semifinal game with a triple with 1.5 seconds left in regulation time.

Saturday's game saw Casey Goodman nail six triples, including three down the stretch to give Escanaba the lead. Brad Spindler's drive to the basket for a hoop and foul gave Escanaba a 82-80 lead with 1:49 left in regulation time. No one scored until Carney's Joe Pontbriand was long on a potential three-point winner, but Lauscher, a Carney-Nadeau High Scgool senior, got to the ball and barely beat the buzzer with the put-back.

In overtime, Tom Granquist hit a triple and a long two to help his team take a 90-89, and then for a moment, it looked like Polfus would have another game-winner when he nailed a three with five seconds left, giving Juice Promotions a 92-90 lead.

But Gladstone High School basketball assistant coach Bob Prins was fouled, and he made both free throws with 2.3 seconds to play, tying the game at 92-92.

One Carney pass up court was deflected out of bounds, leaving 1.4 seconds on the clock. That's when Cherette, a Bark River-Harris alum who makes his living in the paint, turned, and launched a desperation triple. It fell, and Juice Promotions won another title.

Brad Spindler, Eric Spindler, and Granquist all had 16 points for Escanaba.

Cherette had 25 points to lead all scorers. Pontbriand added 23.

Click the thumbnails in the ARTICLE HIGHLIGHTS above to see videos.