1-1: Eskymos, Marines Split Baseball Doubleheader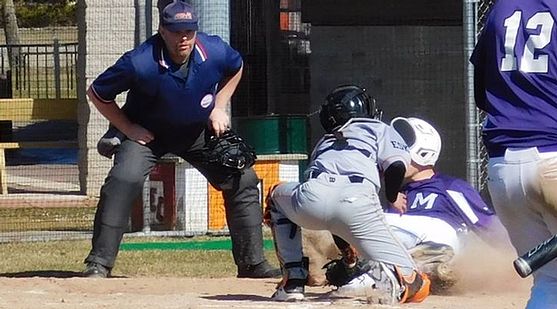 ESCANABA---The Escanaba Eskymos and Marinette Marines split a doubleheader Wednesday night as the baseball season finally started at Al Ness Field. The Eskymos won the opener, 9-8, before the Marines rolled to a 13-3 win in the nightcap.

The twinbill happened on a field that just one week ago was buried under a deep cover of snow. It started a six-game homestand for the Eskymos.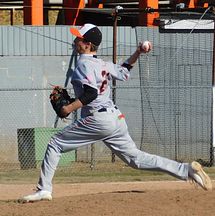 The first game ended on a walk-off bases-loaded walk issued to Aaron Young in the bottom of the sixth inning. It was an anti-climatic ending.

The drama actually came in the top of the sixth, when Marinette rallied from three runs down and tied the game after the Marines were down to their final strike three times.

Trey Bretl had an RBI double off of Escanaba's third pitcher, Courage Krueger, to keep the game going. Then after Garrett Lamarche came in to pitch, Kiler Krause smacked a two-run single to center field to tie the game at 8-8.

But in the bottom of the inning, Tyler Lawson was safe when the Marinette left fielder dropped a fly ball. Then Krueger put down a bunt, and was called safe on a close play at first base. After Josh Bruntjens was intentionally walked, Young also drew a walk.

It was Young's third walk of the game, and he was on base all five times he came to the plate. Bruntjens reached base three times after two early strikeouts.

In the nightcap, not much went right for Escanaba as Marinette scored eight runs in the second inning to take control of the game. Riley Nelson's two-run single highlighted the rally, and ended the day for LaMarche on the mound after he got the start.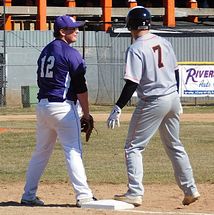 Nelson was 4-for-4 in the game, and Adam Wahl added a solo home run.

Escanaba had plenty of baserunners, led by the freshman Lawson, who went 3-for-3 and had five hits in the doubleheader.

Jake LaFave had two hits in the #8 hole, including one in the fifth inning that prevented the Eskymos from being mercied.

Austin Willette pitched five innings of relief for the Eskymos, allowing four runs, but saving his team from having to dig deeper into the bullpen.

Escanaba stranded a total of 26 baserunners in Wednesday's 12 innings of play.

Escanaba has two more doubleheaders this week as the hoemstand continues. The Eskymos host Negaunee on Thursday at 4:00, and Peshtigo on Saturday at 11 a.m. The games against Negaunee will be broadcast on WCHT-AM (NewsTalk 600).

Click the thumbnails in the ARTICLE HIGHLIGHTS box to see photos and videos taken by Sandi Young.






---MORE---