Shea, Hanson Pitch Gladstone Past Sault Ste. Marie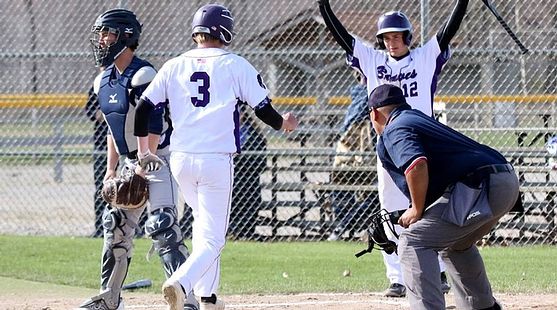 GLADSTONE---The Gladstone Braves got strong pitching performances from Carson Shea and Zac Hanson and turned back the Sault Ste. Marie Blue Devils, 3-0 and 11-3, Friday afternoon in Gladstone.

Shea was within two outs of a no-hitter in the first game before giving up an infield hit, and Hanson pitched five innings of two-hit ball, striking out six and allowing two runs.


Jared Crow kept up his hot hitting by driving in all three Gladstone runs in the opener, with a two-run single with two out in the third inning, and an RBI hit in the fifth inning.

Lucas Weinert scored two of the three Gladstone runs.

The story was Shea, who kept the Blue Devil hitters off balance by working quickly and ahead in the count. He walked two men in the third inning, but after a visit to the mound from Manager Don Lauscher, Shea settled down and retired eight straight men.

With one out in the sixth inning, Logan Bailey hit a slow roller up the third base line. Weinert fielded it cleanly, but didn't have enough time to get the out at first.

The Blue Devils had only one other baserunner (on an error) in that game.

Bailey pitched well enough for the Blue Devils, but took the loss depite a complete game effort. He gave up nine hits but did not walk a batter, striking out four Braves.


In the second game, the Braves got a big game from leadoff batter Clay Cole.

He had three hits, drew a walk, stole three bases, and scored four runs.

Crow added an RBI double, Braeden Lamberg and Cody Frappier had run-scoring hits, and Cooper Cavadeas added an RBI triple on the hardest-hit ball of the day.

Hanson allowed two runs in the fourth inning when Drew Larson got an infield hit, Bailey followed with single, and Avery Teneyck brought home the run with a bounce out. The second run scored when Hanson was called for a balk with a man on third base.

That cut Gladstone's lead to 4-2, but the Braves scored three times in the bottom of the inning, and four more times in the sixth inning to finish off the sweep.

Gladstone (17-2) travels to Bussels, Wis., Saturday, to face Southern Door, as well as Peshtigo. The Braves then return home for two Monday against Menominee.

Sault High (6-9) travels to Escanaba on Saturday to face Bark River-Harris at 9:30 a.m., and the Eskymos at noon. The morning game will be broadcast live on Eagle 107.3 FM (and on WSOO-AM 1230 in the Soo) starting at 9:00 a.m.

Click the thumbnails in the ARTICLE HIGHLIGHTS box above to see photos taken by Brenda Crow, videos taken by Laura Lamberg, and to listen to interviews with Shea, Cooper Cavadeas, and Manager Don Lauscher.