WHAT A FEELING!!! Braves Stun No. 1 St. Francis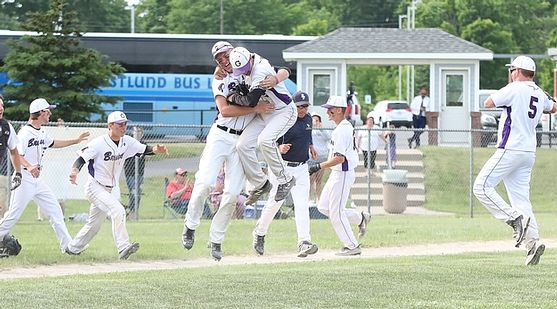 CHARLEVOIX---One year ago, the Gladstone Braves walked off the baseball field in Traverse City a beaten bunch. They had been humiliated, 9-0, by Traverse City St. Francis in a regional championship game that catapulted the Gladiators to a trip to Michigan State University and the state baseball finals.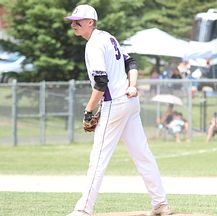 Ever since that moment, the Braves wanted to make amends for that loss. They wanted to prove to themselves that they were better than that, and in more ways than one.

Every practice since then, every game since then, everything has been about one thing: getting another shot at the Gladiators. On Saturday in Charlevoix, the Braves got their chance.

And in a game that won't be forgotten for a long time, the Braves made the most of that opportunity and they pulled off a stunning upset, 8-4, in a ten-inning marathon that took nearly four hours to play.

"These kids, they sure know how to play, and they know how to play under pressure," Gladstone Manager Don Lauscher said. "There's something to be said ofr knowing how to win. And these kids surely do. And I'm so proud of them. From January 1st to now, that's a long grind. They had one thing on their mind: Traverse City St. Francis. They must have said it a thousand times if we said it once, that was our mission this year."

"We had to work harder in the off-season, definitely," Braves senior Braeden Lamberg said. "As a team, we were focused. We worked hard together. We had more team chemistry, I guess."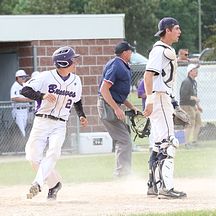 "Ever since that day, us seniors, we've all been working hard to try to make it back," Braves senior Owen Hanson said. "And we did it!"

It certainly wasn't easy, as the Gladiators had the winning run at third base on several occassions during the course of the game. But they hung tough throughout.

"I'm exhausted," Braves senior Clay Cole admitted. "We had a lot of pressure on us. One mistake, and they win. But Coach conditions us well. And throughout the game we slowly, slowly, picked away at them, and when they tired out, we had energy left."

"I feel like the confidence that we had coming into the game, we were pretty strongly focused," Gladstone senior Lucas Weinert said. "A lot of the plays we made, there were some tough hops out there, but we managed to stay in front of them most of the time. We saw their pitcher was struggling a bit and we started hitting the ball really well."

"It means everything, a regional championship, you can't get much better than that," Braves winning pitcher Carson Shea said. "It was a battle back and forth. I'm just glad we won the game! I just tried to stay in the moment and do my job, and get them out."


The Braves started the day by slipping past Boyne City, 6-4, in the semifinals. And St. Francis whipped Calumet, 14-0, in a game that took all seven innings to play.

In the championship game, the Braves fell behind, 2-0, as Joe Muzljakovich singled home a run in the first inning and Cooper Peterson singled home a run in the third inning. But the Gladiators could not get the knock-out punch, as they stranded two eight men on base in the first five innings.

Gladstone managed to tie the game in the fifth inning as Shea singled, Jared Crow walked, and with two out, seniors Clay Cole and Braeden Lamberg got back-to-back RBI singles to make it 2-2.

St. Francis took the lead, 3-2, in the bottom of the fifth as Nate Schmuckal doubled in a run. That happened after center fielder Owen Hanson threw the ball from the outfield on a Cooper Peterson base hit, turning it into a force play at third base.

In the sixth inning, Danny Martin put his head into the game (literally) as he was plunked to lead off the inning. Weinert bunted him to second base and Owen Hanson came through with a sacrifice fly to tie the game at 3-3.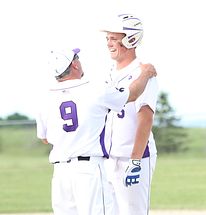 Cole threw 99 pitches in the six innings and left the mound having yielded ten hits, but only three runs.

That brought Shea in to pitch, and St. Francis had a chance to win it in the bottom of the seventh when Cooper Peterson and Schmuckal led off with singles.

They had the bases loaded with one out, but Shea buckled down to get Artie Dutmers to pop up and Casey Peterson to fly out, sending the game to extra innings.

In the eighth inning, Casey Peterson, the Gladiator pitching ace, ran up against his 105-pitch count.

That brought Keaton Peck in to pitch, and he got the next two batters.

In the bottom of the inning, Danny Passinault led off with a single, but Shea picked him off of first base moments later.

"That was a big play," Shea said. "I knew he was going, so I just peaked over there, and me and Jared (Crow) looked at each other, and we were like, 'let's do it'. Luckily, it paid off. It was a big play!"

Then came the ninth inning, the Braves had a runner on second and two out when Cole smoked one to the fence for an RBI double, putting Gladstone in front for the first time.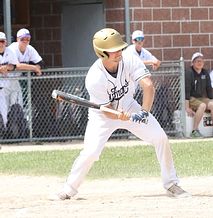 But the Gladiators (31-2) didn't fold.

With one out, Schmuckal ripped a double and Tommy Gallagher smoked a double to the fence to re-tie the game at 4-4. St. Francis got its winning run to third base with two out, but Shea got Dutmers to pop up to end the threat.

In the top of the tenth inning, Cody Frappier singled up the middle and it got by the outfielder for an error.

With a runner on second, Martin smacked one through the middle that was almost caught by the shortstop for a double play, but he couldn't handle it, and both Gladstone runners were safe. Weinert came through with another sacrifice bunt, and then St. Francis elected to intentionally walk Shea to load the bases.

"That has actually never happened before," Shea said of the intentional pass. "I'm being serious with you. Not kidding. That has never happened. So, I was feeling pretty accomplished about that!"

That brought up Owen Hanson, who smacked one deep to left. It went over the left fielder's head and two runs scored, making it a 6-4 Gladstone lead.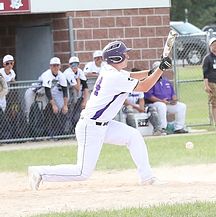 "I got up there, and Coach told me that I would see one right down the middle, so just turn on it and rip it as far as you can," Hanson said. "We've manufactured a lot of runs this year with bunts, but Coach just trusted me to put one in the outfield, so I had to deliver for him."

"It was probably, in most situations, a bunt situation," Lauscher said. "But said, to O, to hell with the bunt. Get a pitch middle-in, and you're gonna launch it. And two pitches later, he got a pitch middle-in, and he launched it. That's what memories are all about, and boy, Owen sure came through today."

Crow followed with an RBI single, and then Ben Kelly came through with a pinch-hit suicide squeeze to give Gladstone an improbable 8-4 lead.

"When he got that suicide down, I was just elated," Lauscher said.

Gladstone put down four successful bunts in that game; two by Weinert.

But the Gladiators didn't give up, as Casey Peterson and Passinault led off with base hits. The Braves continued their strong defense, as Peck hit one up the middle and Lamberg, who was now playing shortstop, got the ball, shoveled to Zach Hanson at second, and on to Crow at first base for a 6-4-3 double play.

Then Shea got Muzljakovich to pop up to Zach Hanson, and the celebration was on as the team celebrated its 51st and final defensive out of the afternoon.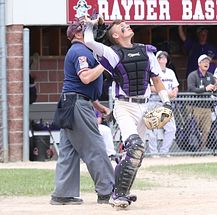 SEMIFINAL: BRAVES SURVIVE, 6-4---Earlier, the Braves had just four base hits, but took advantage of Boyne City errors to eliminate the Ramblers.

Gladstone scored four runs in the third inning as Owen Hanson and Frappier both put down bunts that Boyne City fielders could not handle, with Frappier's being a suicide that was called with two strikes on him. Weinert had a double and Shea had a two-run single during that inning.

Boyne City (18-13) rallied, however, against Braves left-hander Crow. They scored three runs in the fourth inning on a three-run homer by Nick Aown, and the Ramblers would have had more runs later that inning if Owen Hanson hadn't robbed Ethan Hills of extra bases with a full-out diving catch in center field.

Gladstone added unearned runs in the fourth af sixth innings before Boyne City scored a run in the seventh inning. With Crow tiring, Boyne City had a runner on second base but Crow, on his 103rd pitch, got Aown to pop up to end the game.

UP NEXT: SSC PANTHERS: The Braves (31-4) will travel to Petoskey on Monday and play in the state quarterfinals on Tuesday against Standish-Sterling, with a trip to Michigan State University on the line. Tuesday's game starts at noon, and it will be broadcast live on WCHT-AM (NewsTalk 600) starting at 11:30.

Click the thumbnails in the ARTICLE HIGHLIGHTS box above to see photos taken by Brenda Crow, videos taken by Laura Lamberg, and listen to radio replays and post-game interviews.