FIRST STEP: Wildcats Have First Full-Pad Practice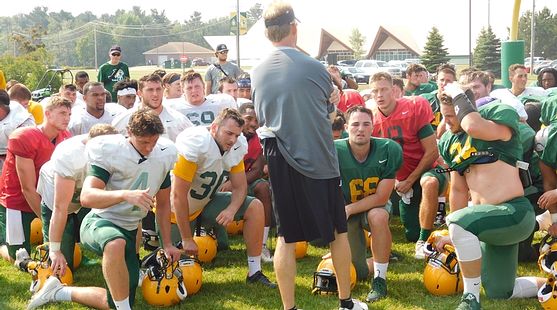 MARQUETTE---Northern Michigan University's football team held its first practice in full pads on Tuesday as preparations for the 2018 season gets into high gear.

The Wildcats are looking to improve upon last year's 1-9 record, and Head Coach Kyle Nystrom said that his young team has to learn how to win. And it starts now.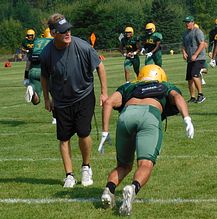 "We had 19 freshmen play (last season), between the redshirt and true freshmen," Nystrom said. "So, out of 22 starters, do the math! I knew that was going to happen. In football terms, as they say, we came and blew it up (from the previous roster), if they weren't the kind of guys we wanted.

"We wanted to lift, we wanted to run, and we wanted to develop," Nystrom continued. "Go to class, and do things the right way. Some of them didn't want to do that, so they had to leave, and we brought in 42 new kids."

While Northern won just one game last season, the Wildcats were in a lot of tight games.

The players on this year's squad believe that the future is bright.

"Our biggest issue this year is trying to keep everyone accountable," wide receiver Dan Van Effen of Escanaba said. "I think everyone's doing a little bit of extra work after practice, putting in that extra effort and striving to be better. We are a lot closer together, I think."

Nystrom says that Tuesday's practice was an example of how the team has to keep working to be even more competitive in the GLIAC this season.


"It's the fifth day of practice and we're hitting a little bit of a wall," Nystrom said. "We've got to learn to push through and, like I always tell them: tough guys have to have fun doing hard things'. Right now, they've got to fifgure that out."

"The first two days, they had a lot of energy," Nystrom continued. "Everything's good. Everything's new. But then you get into that fourth day, they don't feel the same. We throw a lot of 'install' at them, and mentally, they get a little bogged down, especially when they get fatigued. So, we've got to learn how to deal with that."

The players know that a lot is expected out of them.

"We are really just trying to display some toughness with the pads on, and kick up the intensity," offensive lineman Payton Muljo of Marquette said. "The past couple of days have been more about technique and fundamentals, and now we're just really getting into football and the toughness that goes along with it."

"We've got to make sure that we're better every day, and that we continue to improve," VanEffen said. "We started Friday, and just had helmets on. Then you could tell that everyone was getting more aggressive when we put shoulder pads on, and now, going fulls, we're just hoping to continue to improve every day."

The Wildcats open the season in Illinois on Sept. 1 with a non-conference game against McKendree University. All of NMU's games will be broadcast on WUPT-FM (100.3) in Marquette, WCHT-AM (600) in Escanaba, and at www.rrnsports.com.

Click the thumbnails in the ARTICLE HIGHLIGHTS box above to see photos, and hear AUDIO interviews with VanEffen, Muljo, and Nystrom.