Gladstone Opens Season With Win Over St. Ignace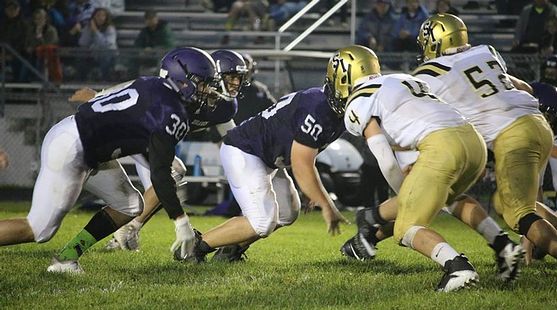 GLADSTONE---Jared Crow threw three touchdown passes as the Gladstone Braves opened the football season with a 26-14 win over St. Ignace Friday night in Gladstone.

The game was played under rainy, windy conditions for most of the night.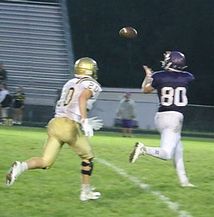 The Braves took an early lead after a Saints fumble deep in their own territory, and Brody Sanville scored from nine yards out.

The visitors struck quickly, though, as quarterback Tucker Shepard hooked up with Lane Matson for a 66-yard touchdown pass. The two-point pass to Matson made it 8-6.

Crow's three touchdown passes were all from outside of the red zone, and his first to fellow senior Cooper Cavadeas gave the Braves the lead midway through the second quarter. That was a 21-yard strike. Then after another Saints turnover, Gladstone struck again with a 68-yard touchdown pass from Crow to Rudy Peterson. That key play made it an 18-8 Gladstone lead.

The Braves missed a third straight two-point play, but the momentum had changed.

The Saints drove into Gladstone territory in the 2:00 drill, but Christian Creten had a key quarterback sack, and a fourth down pass was long and wide of the end zone.

Gladstone started the third quarter with another quick-strike 44-yard TD pass to Cavadeas, and Crow's two-point pass to Peterson made it a 26-8 Braves lead.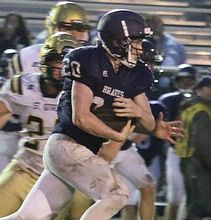 The Saints went on a long drive that took up almost all of the third quarter clock, with Garett Rickley scoring from six yards out. But they could get no closer, despite having the ball three times in a fourth quarter that was played in a downpour.

Crow completed seven passes (in 11 attempts), with Cavadeas catching four and Peterson hauling in three. Sanville had 138 yards rushing, with

Gladstone won the junior varsity game, 52-0.

The Braves travel downstate to face the Gaylord Blue Devils next Thursday night.

The game will be broadcast live on WGKL-FM (Kool 105.5), WCHT-AM (NewsTalk 600), and on-line at www.rrnsports.com.

Click the thumbnails in the ARTICLE HIGHLIGHTS box above to see photos, videos. Thanks to Brenda Crow and Derek Vanderlinden for the help. Also, click the AUDIO button to hear interviews with Rudy Peterson and Cooper Cavadeas...and the player spotlight interview with Jared Crow.